At a time when the market is betting on a 'higher for longer' global interest rate view, Accenture's (ACN) weak revenue forecast is a negative read-through for the Indian IT firms, according to analysts.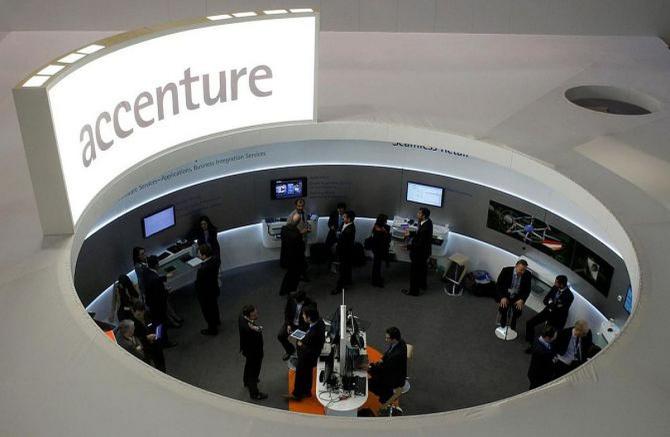 The Dublin-based company sees its revenue growth at 2-5 per cent in constant currency (cc) for the financial year 2024 (FY24), below the pre-Covid levels of 5-8 per cent for FY17-20.
The weak projection, thus, signals that slower demand is likely to persist this year, and any recovery is unlikely in the near-to-medium term, experts note.
"ACN noted that the long-term technology spending trends remain intact, but client caution due to macro uncertainties is weighing on tech spending in the near term," wrote analysts at Nomura in a note.
At the bourses, among large-caps, HCL Tech, Infosys, and Tech M dropped over 1 per cent in a firm market.
LTIMindtree, Persistent and L&T Technology slid 2 per cent each among mid-caps.
ACN said its tepid revenue projection for FY24 does not assume any improvement in the discretionary spending environment.
Its deal bookings were also weak for the latest August quarter (Q4), down 10 per cent year-on-year (yoy) in cc terms to $16.6 billion, mainly due to an 18 per cent yoy drop in managed services.
This sharp moderation in deal booking suggests rising scrutiny on IT spending, said Jefferies analysts Akshat Agarwal and Ankur Pant.
The company expects bookings to remain soft in the coming the Sep-Nov quarter, due to seasonality.
ACN's revenue grew 4 per cent yoy in cc terms, while net income fell 16 per cent yoy in Q4 as the communications, media and technology (CMT) segment saw the sharpest contraction of 12 per cent.
Revenue growth was led by outsourcing, which grew 10 per cent yoy, while consulting vertical revenue declined 2 per cent.
"ACN's results offer negative read-throughs for Wipro due to continued weakness in consulting and TechM, LTIMindtree due to pressures on the CMT vertical and North America. We remain selective," Agarwal and Pant of Jefferies said.
On a year-to-date basis, the Nifty IT index is up 11 per cent as against a 13 per cent rise in the Nifty50.
The recovery came as the pace of rate hikes slowed both in India and overseas.
However, Nirmal Bang analysts suggest investors use the gains to pare positions if overweight, especially in the tier-2 IT pack.
"Market believes the worst is over and that revenue and earnings will accelerate sharply in FY25.
"Our non-consensus view is that FY25 growth will be only a tad faster than FY24 with risks that it could be as bad or weaker," they said in a recent note.
The brokerage has maintained its 18-month-old 'underweight' stance on the sector as it believes a conclusive Fed pivot will happen only when US core inflation falls to 2 per cent, which is unlikely in the next six months.
"After a slowdown in client spending, the next phase of weakness in 2024 will likely see pipeline or total contract value compression with more generalised pricing pressure", it said.
Disclaimer: This article is meant for information purposes only. This article and information do not constitute a distribution, an endorsement, an investment advice, an offer to buy or sell or the solicitation of an offer to buy or sell any securities/schemes or any other financial products/investment products mentioned in this article to influence the opinion or behaviour of the investors/recipients.
Any use of the information/any investment and investment related decisions of the investors/recipients are at their sole discretion and risk. Any advice herein is made on a general basis and does not take into account the specific investment objectives of the specific person or group of persons. Opinions expressed herein are subject to change without notice.
Source: Read Full Article