The sale will remain a business of hope unless New Delhi stops meddling in fuel pricing and considers out-of-the-box solutions such as offering an unconditional deal or splitting up BPCL's myriad businesses into smaller, less expensive parts.
S Dinakar reports.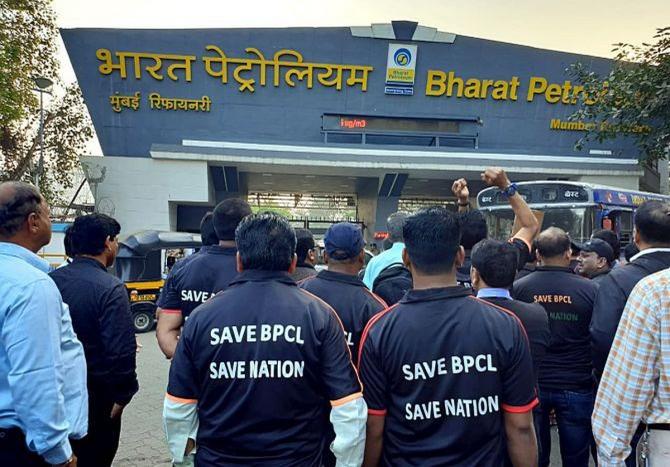 In 2017, a consortium led by Russian state oil company Rosneft agreed to buy Essar Oil for $12.9 billion in India's biggest foreign acquisition of a homegrown company.
Rosneft's buyout of Essar's assets was meant to herald a wave of energy investments in India — over six decades after Esso, Caltex and Shell invested in India's refining sector in the 1950s.
But the government has tripped up in its efforts to sell Bharat Petroleum Corporation Ltd (BPCL), formerly Burmah Shell, a blue chip public sector company.
Bidders include a couple of global funds and resources firm Vedanta.
And after a two-year delay, New Delhi now expects BPCL's share sale in 2022-23.
The sale will remain a business of hope unless New Delhi stops meddling in fuel pricing and considers out-of-the-box solutions such as offering an unconditional deal or splitting up BPCL's myriad businesses into smaller, less expensive parts.
"BPCL is a complex organisation, and a successful privatisation requires finding suitors with significant financial muscle and strategic fit to make the acquisition a success," said Ramesh Vijayaraghavan, a Singapore-based global consultant with decades of experience as an investment banker and global markets professional with firms including US Morgan Stanley.
"The energy industry is also under the impact of sustainability rules and regulations and challenges associated with building a long-term sustainable business.''
Also, the timing of the sale couldn't have been worse for BPCL. What clicked for Essar was the pre-pandemic timing, a Donald Trump presidency that ignored the impact of fossil fuels on climate change and an increasing dependence on oil and LNG.
Investments in oil have since declined 54 per cent after peaking in 2014-15.
The pandemic and Joe Biden's presidency have brought climate change back to the limelight, prompting Exxon, Shell, Chevron and BP to expand investments in alternative fuels at the expense of oil.
At its $11 billion-plus valuation, BPCL is a risky proposition especially if the government, under pressure from unions, places onerous terms on retrenchment or resale of certain assets and interferes in fixing petrol and diesel prices.
BPCL trades at Rs 391. The government expects a much higher valuation factoring in a control premium of Rs 300-Rs 400 a share considering that Rosneft paid more for a less-endowed Essar Oil.
That deal included a 400,000 barrels per day (b/d) modern refinery at Vadinar, a captive port and power plant, and 3,500 retail outlets.
Compare that to BPCL, which operates 24 per cent of India's 80,458 retail outlets, 23 per cent each of the 263 aviation fuel stations and of the 21.3 million tonnes of LPG bottling capacity, and a combined 550,000 b/d of refining capacity at Mumbai and Kochi.
It also has petrochemical units, stakes in city gas distribution in India and a 10 per cent stake in a $20-billion Mozambique LNG project.
"BPCL is the best run oil company with a very good footprint," said Narendra Taneja, an independent oil expert.
"An asset like BPCL should not be privatised in a hurry," he added.
Still, companies like Saudi Aramco, Shell and BP chose not to bid despite the Paris-based International Energy Agency calling India the most promising market for fossil fuels.
Investors are concerned about a lack of fuel pricing reforms and New Delhi's tendency to refuse to honour arbitration agreements unless pushed into a corner.
Why will anyone pay over $12 billion for a company when you lack the freedom to price your fuels, asks a former BPCL official.
Pump prices, which are influenced by state oil companies, continue to be controlled indirectly. For instance, Brent crude averaged $69 a barrel in the last week of November and has since increased to around $82.
Exchange rates were volatile.
But prices of petrol at Rs 95.4 a litre in Delhi and diesel at Rs 86.7 have been unchanged since December 2 and November 4, respectively.
LPG prices are similarly flat.
India imports around 85 per cent of its crude, so international prices and the rupee-dollar rate influence domestic pump prices, IOC says.
But then, it's no coincidence that five states led by Uttar Pradesh are set to go to the polls in February.
On a broader note, farm reform laws were withdrawn a year after passage fearing the impact of protests on polls in UP and Punjab.
A retrospective tax law, introduced by the former United Progressive Alliance government, was scrapped last year only after Cairn won an international arbitration against India and threatened to seize the government's overseas assets.
What it demonstrates is that barring street protests or international strictures, New Delhi refuses to budge.
And foreign investors have no appetite for such risks.
But how long can the government afford to wait for the right suitor?
It took two decades to privatise Air India, while oil is running into climate change activists.
Further delays may erode BPCL's value.
The government cites Covid-19 as a reason for the delay.
But the US witnessed a $21 billion sale in 2020 of Marathon Petroleum's Speedway convenience store business to the Japanese owner of the 7-Eleven convenience store chain.
Reliance Industries sewed up over $23 billion in equity sales from its telecom and retail businesses involving Google and Facebook, and sovereign funds from the UAE and Saudi Arabia among others.
Where does that leave BPCL?
One possible way the government could explore a sale is selling different parts of BPCL businesses to different strategic buyers as business packages and giving a longer timeline for the acquirer to achieve environmental, social and corporate governance-related objectives, Vijayaraghavan suggested.
After Reliance scrapped a $15 billion deal to sell 20 per cent of its oil business to Saudi Aramco, it plans to find investors for parts of its oil to chemicals business, transferring its gasification operations into a wholly-owned unit.
BPCL also plans to reposition itself as a green energy company, proposing to spend Rs 250 billion to build 10 gigawatts of renewable energy capacity by 2040.
Saudi Aramco was keen to invest in a planned 1.2 million b/d refinery in Maharashtra along with UAE's Adnoc.
The government's "Make in India" campaign will underpin oil and natural gas consumption, Aramco chief executive officer Amin Nasser had said a few years back at an event in Delhi.
"This is why I am convinced that the world's fastest-growing energy user and most reliable oil supplier must elevate their relationship to a much higher plane," he said.
After all this bullishness, Aramco never put in a bid for BPCL.
Neither has the Ratnagiri project found a location.
Photograph: ANI Photo
Source: Read Full Article