Which sectors will bounce back fast? Which will lag? Has the consumer changed forever? Here are some answers.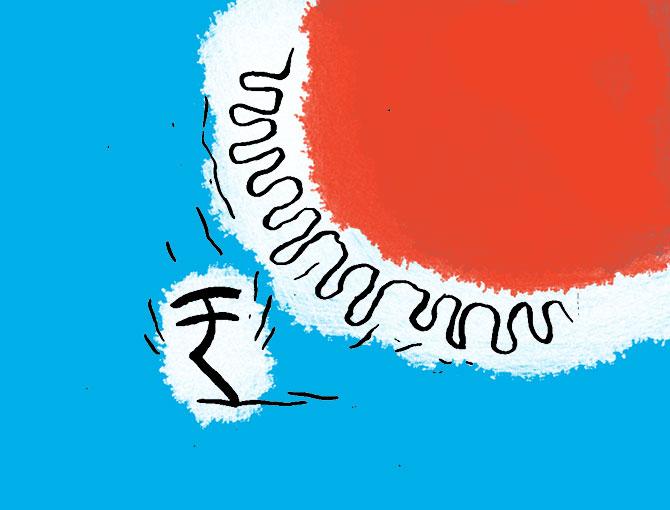 "Blanket reopening of businesses far too risky." "Capacity constraints to hit consumption." "Learn to do more with less."
We have got used to these headlines. Now let's get down to brass tacks.
How are they weaving in these insights into their future course of action?
Are companies taking note of the changing demand trends?
Devangshu Dutta, chief executive officer of retail consultancy Third Eyesight, addresses the key question of cutbacks which will drive both business decisions and the consumer behaviour.
"On the consumer side, many have lost their jobs or taken paycuts. So future prospects will be weighed in before spending," he says.
It is for this reason that he sees premium products bouncing back the quickest because consumers who buy them are not affected that severely as some of the others.
Clothing as a category may take a serious hit as it is one of the major discretionary purchases made by consumers, adds Dutta.
On the list of categories facing cut-backs, he adds discretionary spending like eating out or watching movies or travel-related products and services.
Now the flipside. The brands in some of these categories see opportunity despite this shift.
Take quick service restaurant chain Pizza Hut for example.
"We are already in the process of adapting ourselves to this new normal.
"Deliveries will continue to see an uptick and we are geared to handle that surge with technology upgradations, oven-to-home contactless processes and delivery centric value deals," says Neha, director marketing, Pizza Hut India.
The company, she adds, is also confident that dine-in will pick up subsequently as consumers will "seek moments of togetherness and look forward to the sheer delight of eating out".
Dutta, too, talks about these social needs bringing back demand even if there is a delay.
"The fact is that with restrictions in place you start feeling frustrated.
"Look at what happened outside the booze shops in the country.
"The long queues that you see are not just about alcohol it's also about going out.
"So revival of demand will happen and companies will have to keep in mind that if you are cutting back, don't cut back into the muscles and bones," he says.
Harminder Sahni, founder and MD, Wazir Advisors, contests the prevalent view that malls will see lesser footfall whenever they are allowed to open.
According to him, malls will see better reception because they can be trusted to provide a more hygienic and controlled environment compared to open markets.
The immediate changes in consumer behaviour, adds Sahni, is larger basket sizes as few would like to venture out frequently for shopping needs and there will be greater dependence on new household appliances.
In the previous issue, this section had discussed how categories such as dishwashers are finding traction.
BS Strategy spoke to Samsung India on these changing behaviour patterns and how the consumer electronics major is gearing up to react to those.
Raju Pullan, senior vice-president, consumer electronics business, Samsung India, says, "In the past one month, we have received thousands of queries from consumers across the country as to how they could buy our digital appliances as they felt the need to equip their homes with the latest technology while they stayed home and worked from home."
Giving specific examples, he says that many, including those in tier-II and tier-III cities as well as in rural areas, have evinced interest in its bigger smart TVs, 5-in-1 smart convertible refrigerators and "hygiene team" washing machines as their needs are changing.
One, they are doing much of the housework that was outsourced earlier themselves.
Two, these consumers want to upsize as a bit of indulgence once the lockdown restrictions are relaxed.
Besides what will be sold a key question is, how they would be sold.
Weighing in on this aspect, Siddharth Shekhar Singh, an associate professor of marketing at the Indian School of Business, Hyderabad and Mohali, makes a bold observation on how much online has gained: "One thing is clear that people are going to buy more things online.
"This means that the pace at which online retail was moving will accelerate and it will find uses in other areas also.
"It has leapfroggged to the next level – a level it would have otherwise taken five years to reach because the consumer now knows that the costs are often low, services are efficient and tracking is possible."
Some companies have learnt to synergise their online and offline capacities.
So earlier, if the product was supplied to the consumer from a warehouse of the ecommerce company, manufacturers will now explore the feasibility of shipping it from a dealer who is close to the consumer as this reduces the shipping time and is useful in working around inter-zonal restrictions.
But if more operations move online, commercial real estate can be a serious casualty.
On how the sector will cope with the demand slump, Anuj Puri, chairman, Anarock Property Consultants, acknowledges that the coronavirus has thrown a serious spanner in the works of this lucrative real estate segment but warns that working from home is obviously not a catch-all solution – many business verticals and functions still require employees to work in an office setting.
"A large chunk of work needs constant monitoring and professional infrastructure which only an office setting can provide," he says.
On how cutbacks will have an impact on the business side, Dutta says that there, the economic impact of not only COVID but the pre-COVID excesses will also unroll now.
"Many business decisions like opening a new store, were taken without substantiating whether there was any demand; now companies will be more cautious about it."
Source: Read Full Article