'Akasa is the dark horse and I believe Go First will be up and running soon and these two together could end up with a 30 per cent share by FY24.'
With a combined share of over 86 per cent in the quarter ended June, the domestic airline market is already a duopoly between IndiGo and the Tatas.
The consensus among experts and the aviation industry is that it is here to stay.
The Tata group's acquisition of State-owned Air India saw the merger of its four airlines — Air India with Vistara and AirAsia with Air India Express.
As a result the combined share in the domestic skies, which had been small for each airline, is now 25.7 per cent and they are pretty close to their target of hitting 30 per cent much earlier than they had anticipated.
On the other hand, IndiGo's market share has soared even more, hitting 63.2 per cent in June, grabbing a major share of the domestic market vacated by the troubled Wadia-owned Go First, which suspended operations in early May.
As a result of all this action, the number of domestic airlines will also shrink from eight (counting Jet Airways, though its relaunch is awaited) to half that number after the mergers are completed.
"The duopoly in domestic aviation is here to stay. We do not see anyone being able to make a dent in their market considering their current fleet size and future orders, as more planes means more market share," said aviation analyst Ameya Joshi.
Joshi pointed out that 500 of the 700 planes flying in the country are owned by either IndiGo or Tata.
Based on future orders, their grip on the market will tighten — they have collectively ordered over 1,070 planes, which will be steadily added to their fleets each year.
Only the late Rakesh Jhunjhuwala's Akasa has a clear plan: It has ordered 76 aircraft but has also hinted at an order of 'three digits' by the end of the year.
So what will the domestic airline market look like going forward?
In an executive briefing series on May 19 this year, global aviation consultancy firm Centre for Asia Pacific Aviation (CAPA) said that the Big Two's market share would moderate but still stay at 75 per cent.
That means four smaller players, which include SpiceJet, Go First (if it flies again), Akasa and Jet Airways 2.0 (if it takes off) would have to battle it out for just 25 per cent of the remaining market. At best, each can get a five to 10 per cent share.
No surprise, the report raises questions about the viability of these second-rung airlines.
'This is a no man's land, which will leave them neither competitively irrelevant in the general market nor occupying a specific niche. It is a position, which makes the success and survival of each individual carrier more challenging,' the report said.
The answer, CAPA said, is to have a third viable alternative to ensure more competition, which can happen with mergers.
One example it points to is the merger of SpiceJet with Go First.
CAPA's research has shown that a minimum 10 per cent market share is required to be viable in such a market and only a niche player can survive with sub-5 per cent share.
But airline executives said with Go First in trouble that time has passed.
In April, two months before it suspended operations, such strategies may be worth exploring because Go First and SpiceJet still had a reasonable 15 per cent market share.
Now Go First has suspended operations and some of SpiceJet's flights are grounded by the aviation regulator on safety concerns.
SpiceJet's market share fell to 4.4 per cent in June, behind start-up Akasa.
Though Akasa has a steady fleet acquisition strategy, it does not appear to be aggressively buying market share for the time being.
Akasa currently has 20 aircraft and plans to expand the fleet to 28 planes by FY24.
"Akasa is the dark horse and I believe Go First will be up and running soon and these two together could end up with a 30 per cent share by FY24," said aviation consultant Mark Martin.
There is Jet Airways to consider, too, though it remains grounded by controversies over its revival plans.
Joshi said it is possible for small airlines to survive in a niche area.
Go First had managed till it was hit by crises — by dominating routes in key tourist markets such as Srinagar or Leh.
An alternative approach can be seen in Star Air, which describes itself as a 'commuter airline', flying short-haul routes that don't clash with the bigger airlines.
He does not see a third player emerging among the existing players with the financial muscle to challenge the Big Two.
Indeed, it is not easy to break in as a viable third player from zero market share in a duopoly situation.
In Australia, for instance, many airlines tried unsuccessfully to break the stranglehold of the top two airlines, Qantas and Virgin Australia, with a combined 73 per cent share of the domestic skies last year.
So will India's domestic airlines face a similar fate? And does this mark the end of affordable fares?
During the summer holidays this year, flyers complained of air fares hitting the stratosphere, especially after Go First grounded its service, forcing the government to intervene (with little effect).
At the same time, sharply discounted air fares on key lucrative routes by the bigger players could also squeeze the newer players.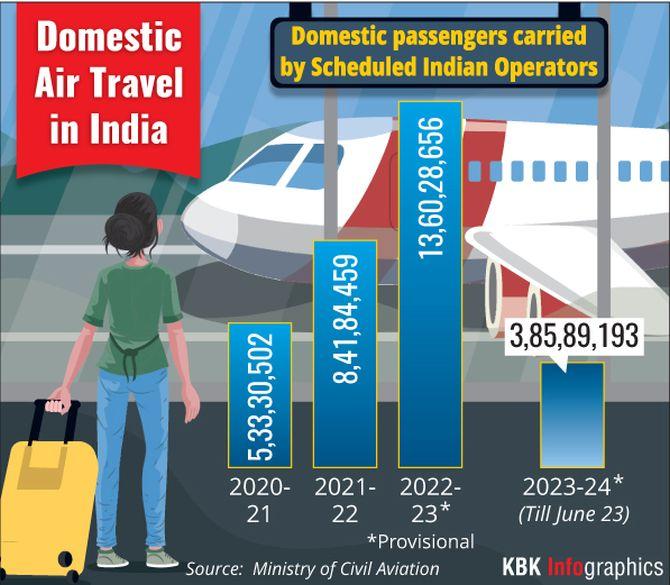 Some argue that Vodafone Idea's bailout by the government with a financial package to prevent a duopoly by Reliance Jio and Bharti Airtel should be replicated in aviation to keep smaller airlines flying.
The counter-argument here is that the government has already bailed out Air India by taking a financial hit before it was privatised.
Others suggest that the fear of high air fares is unfounded.
In telecom, the big two have a combined market share of 70 per cent but this has not led to steep tariff hikes.
Despite that, both service providers are making profits. So why should it be any different in aviation?
That's certainly a question worth considering, especially given that growth has been profit-less, with the industry losing around $8 billion in the two Covid years of FY21 and FY22.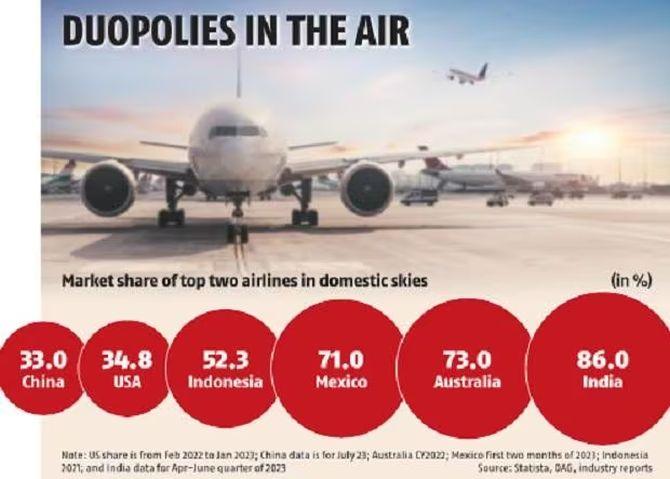 Feature Presentation: Aslam Hunani/Rediff.com
Source: Read Full Article