Higher growth in vegetable demand relative to supply in the recent past has led to an upward trend in inflation, with spikes becoming more frequent.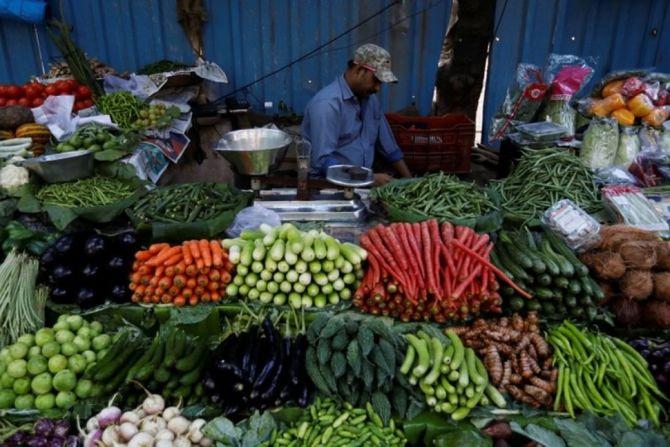 A study by rating agency Crisil found that vegetable inflation has been the most volatile in the food category, in fact.
Inflation volatility is detrimental for both consumers and farmers and also sidetracks policymakers in the short term, necessitating frequent and repeated price-smoothing measures.
The study also determined that demand for vegetables has outstripped supply.
"Population growth and demographic transition, income growth, and the accompanying change in dietary preferences are some structural factors behind the surge in demand.
"While vegetable production — including per capita production — has expanded, it hasn't kept pace with the surge in demand," the study indicated.
It noted that, apart from losses due to weather disturbances and pest attacks, post-harvest wastage during storage and transportation further reduces the stock available in the market.
"Unfavourable risk-reward dynamics and price uncertainty also discourage vegetable growers," the study determined.
Vegetables have a 15.5 per cent weight in the food index, the highest after cereals and milk, and remain the most volatile component.
Additionally, such spikes are frequent in India.
"The last occasion when it lasted long (in double digits for seven months) was in financial year 2020.
"During that period, the annual average vegetable inflation surged to 21.3 per cent, pushing the average food inflation to 6.7 per cent.
"It returned to double digits between March and September 2022, averaging 15 per cent," the study found.
On the production side, the Crisil study noted that India ranks highly in global vegetable production, second only to China.
Yet, while production levels are high, growth has decelerated in recent years and falls short of demand, according to government estimates.
Demand, conversely, is soaring due to population growth and demographic transition, increased income and changing dietary habits.
Indeed, estimates from a Niti Aayog study emphasise the large gaps between supply and demand for vegetables.
Here, demand is not considered synonymous with consumption, under the assumption that consumption would be lower based on final availability.
For instance, for the financial year 2016-17, the estimated demand-supply gap stood at 4.2 million tonnes — that is, actual supply was approximately 2 per cent short of estimated demand.
At the farm stage, a large portion of losses (in addition to harvest losses) occur during sorting and grading, highlighting a need for technological advancements and better infrastructure and monitoring systems.
"The data indicate some reduction in losses, although they remain high.
"In potatoes, for example, increased cold storage could have potentially reduced some losses.
"This underscores the importance of technological interventions and improvements in infrastructure to mitigate losses, which could in turn increase vegetable supply and reduce the gap in relation to demand, thus alleviating spikes in inflation," the study concluded.
Source: Read Full Article