Dana Peterson is an executive vice president and chief economist at The Conference Board. The opinions expressed in this commentary are her own.
Help-wanted signs are cropping up everywhere and reports of labor shortages with them. Does this mean the US has achieved the "substantial further progress" toward labor-market healing that the Federal Reserve is seeking? More importantly, is it time for Fed policymakers to start reversing their easy monetary policy and raising interest rates? The answer remains "no" to both questions.
Labor shortages are not widespread. Rather, special, and arguably temporary, factors are causing them in certain segments of the economy. "For hire" signs are plentiful in industries that have thrived during the pandemic and desperately need workers. Consumers' hunger for goods, including cars, gaming systems, outdoor furniture and new housing are fueling high demand for laborers in industries such as manufacturing, trucking and construction. Only recently have select in-person services industries — like restaurants and hospitality — faced labor shortages, which is a function of state and local governments lifting restrictions on businesses.
But while pockets of labor shortages are grabbing the headlines, the jobs situation remains grim for millions of Americans. A disappointing 266,000 jobs were added in April, well below the 800,000 to 1 million per month needed to dramatically reduce the pandemic's payroll-employment losses. Indeed, 8.2 million people are still jobless since February 2020 — the outset of the pandemic. Also, a little used, but important, measure of labor market health, the employment-to-population ratio, stands at 57.9% presently — a near 40-year low — compared to 61.1% pre-pandemic, according to the Bureau of Labor Statistics (BLS). This means that millions of workers are sitting idle or are completely disengaged from the labor market.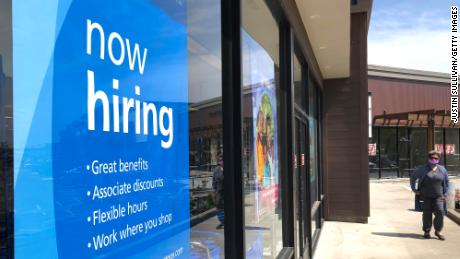 Among the jobless are 4.5 million women, according to the BLS, who are overrepresented in the in-person services sectors — including personal services, health care, travel, retail and entertainment — that closed during the pandemic. By comparison, only 3.7 million men overall are still out of work. Working mothers were especially challenged by the childcare crisis as schools shut and remote schooling became the new normal. Labor force participation among women fell and is struggling to rebound. Also, an outsized 2.7 million women have stopped looking for a job altogether by BLS statistics. The pandemic is threatening to reverse years of progress in increasing the presence and productivity of women in the US labor market.
Meanwhile, unemployment rates remain atypically high for Black and Latino workers. The national unemployment rate fell from 14.8% at its pandemic peak to 6.1% in April. While that plunge is good, the improvement was not uniform across demographic groups. The unemployment rates for Black and Latino workers stand at 9.7% and 7.9%, respectively — notably higher than the national figure. Black and Hispanic workers often lagged peers of other ethnic groups in closing the unemployment rate gap after past economic downturns, often not significantly narrowing it until labor markets heated up. This time that gap remains wider than is typical at 3.6% for Black workers now compared to 1.9% reached in late 2019, and 1.3% versus 1.1% for Latino workers, according to our calculations from BLS data.

Jobless rates also remain unusually elevated for persons with less than a high school degree, according to the BLS, because they are less likely to be in industries that accommodate remote work. Unemployment rates remain higher-than-normal for persons in lower-skilled service professions, including personal care, food preparation, building maintenance and transportation. These rates are unlikely to improve until businesses are fully open, which heavily depends on Covid-19 infection rates, vaccination rollouts and political decisions on when it is safe to end mobility restrictions.
Taken together, these data points illustrate that the Fed's "substantial further progress" benchmark for labor market improvement has yet to be met. The subpar April jobs report showing millions of unemployed workers and elevated unemployment rates signals that the labor market is not on the verge of overheating, as many have predicted. Until substantial further progress is made, the Fed is unlikely to start tapering asset purchases or raising interest rates in the near term.
The Fed has stated that the full employment mandate is a broad and inclusive goal, meaning that having pockets of labor market froth or a few industries thriving is not enough. The Fed wants to see men and women, young and old, the skilled and unskilled, and persons of all ethnic groups experience favorable employment conditions. Today's jobs data suggest that the US economy is still falling short of this objective.
But all is not lost. Employment data are lagging indicators, which means that they reflect what has already happened in the economy. Indeed, the first quarter started off with a bang, with a 6.4% spike in real GDP growth, and an even stronger growth rate is expected for the second quarter. A third round of stimulus checks, ramping up of vaccinations, loosening restrictions on normal activity by state and local governments and strong consumer and business confidence still bode well for a powerful rebound in growth over the course of this year. Over time, jobs data will reflect that post-pandemic US economic strength and meet the Fed's definition of a satisfactory labor market recovery.
Source: Read Full Article