Make sure buying a house won't lead to compromises on other crucial financial goals.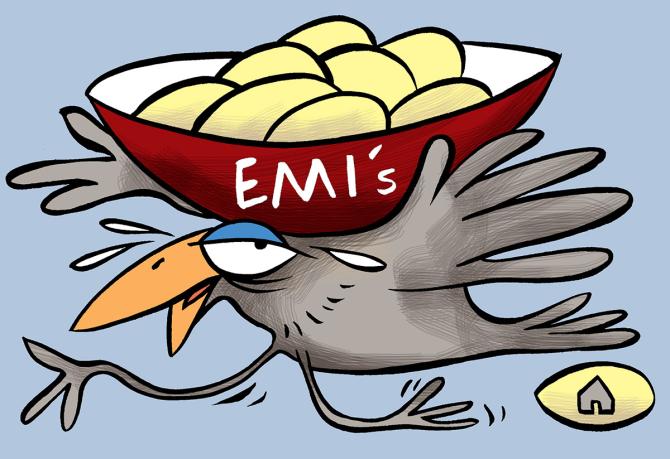 JLL's Home Purchase Affordability Index (HPAI), which measures housing affordability across India's seven key residential markets, was on the upswing from 2014 and peaked at the end of 2021.
It, however, slid in 2022 and may continue to do so in 2023, according to a recent report from the real estate consultancy.
Potential buyers need to carefully evaluate their affordability before taking the buy decision.
Prices, interest rates denting affordability
The HPAI, which is city-specific, takes into consideration three things: average price of a 1,000 sq ft house in the city, its average household income, and the home loan interest rate.
In these calculations, the loan-to-value ratio is assumed to be 80 per cent and debt to gross total income is taken to be 40 per cent.
In the index, the denominator is the minimum income a household must have to qualify for a home loan on a 1,000 sq ft apartment in that city.
The numerator is the city's average household income.
If the index is less than 100, it means the average household income is not sufficient to get a home loan for the purchase of a 1,000 sq ft flat.
If it is above 100, it means the average household income is adequate.
Two factors are primarily responsible for the reduction in affordability.
"Interest rates on home loans have risen due to the Reserve Bank of India's rate hikes. Moreover, house prices have gone up as inflationary pressures have led developers to pass on the rise in input costs to buyers. Till 2021, the average annual increase used to be 2-3 per cent. But in 2022 it was 5-7 per cent in most cities and 11 per cent in Hyderabad," says Samantak Das, chief economist, and head of research and REIS, India, JLL.
Buy if you won't shift
It makes sense to buy a house if you are going to stay in the same city for long.
"If you are young and could change your city soon because of a job change, avoid buying," says Arnav Pandya, founder, Moneyeduschool.
Once you've decided on the locality and the size of the house, you will get to know the approximate price.
"Bear in mind that besides the cost of the house, there could be other costs, such as registration and stamp duty, brokerage, renovation expenses, etc," says Vishal Dhawan, chief financial planner, Plan Ahead Wealth Advisors.
Can you afford it?
The primary question you must answer is whether you can afford to pay the home loan EMI consistently for 15-20 years (less if you prepay).
"The answer will depend on two factors. One is whether you have a stable job. The other is whether you depend on two incomes to pay the EMI. Factor in the possibility that you may go from double- to single-income status due to the arrival of a child, study leave, break to take care of the elderly, etc. If that happens, paying the EMI shouldn't become a challenge," says Dhawan.
Consider also whether buying a house could compromise your other financial goals, such as children's education, retirement, etc.
"Calculate how much EMI you will be able to pay after saving for these goals," says Dhawan.
This calculation will prevent you from going overboard on the size of the house or the price.
The sum total of all your EMIs shouldn't exceed 40 per cent of your net income.
"Adhering to this kind of a limit will leave you with headroom to invest for other goals," says Pandya.
Dhawan says it is best not to factor in two incomes, so that the abrupt stoppage of one doesn't affect you excessively.
Build a cushion
Given job and business-related uncertainties, build an emergency corpus.
"For salaried individuals, the emergency corpus should equal six months of household expenses plus EMIs. For business owners and entrepreneurs, it should be 12 months," says Dhawan.
In addition, create a health corpus. Its size should depend on the amount of health insurance you have, number of dependents, their age, state of health, and so on.
Guardrails to determine your affordability
Feature Presentation: Rajesh Alva/Rediff.com
Source: Read Full Article