Foreign portfolio investors (FPI) flows have turned positive on a trailing 12-month (TTM) basis for the first time since December 2021.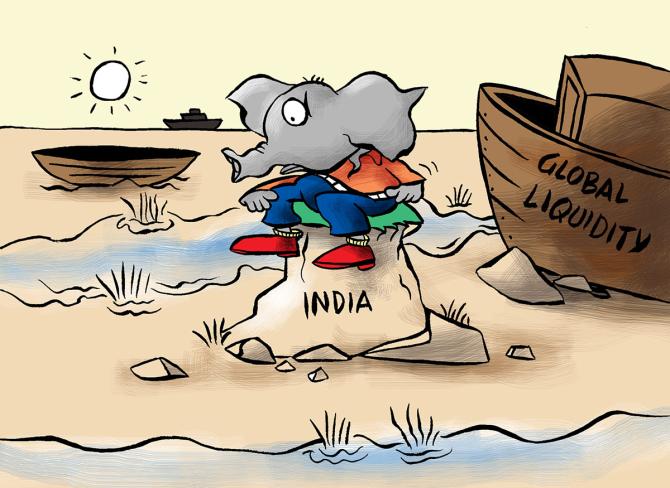 Thanks to robust inflows over the past three months, the TTM overseas flows into domestic equities stand at over $7.3 billion—the most since November 2021.
This has helped propel one-year Nifty returns to 12 per cent.
Between January 2021 and April 2023, TTM FPI flows were negative for 16 straight months.
The average TTM Nifty returns during this period stood at 7.6 per cent, with sub-5 per cent returns during eight of the 16 months.
Market experts say while strong domestic flows have provided a solid cushion to the market, positive FPI flows are critical for the markets to post superior returns.
The recent improvement in FPI flows is driven by a host of factors, say analysts.
"The outlook for FPI flows has improved significantly given the peak of the quantitative tightening cycle in the US and India's relative outperformance to global equities recently.
"Outperformance of Indian equities has been driven by the reduction in valuation premium of India to emerging market (EMs) indices over the past one year and strong relative macroeconomics in terms of diminishing twin deficit risk (fiscal and current account), INR resilience, inflation dropping within the comfort zone of the RBI, in line corporate earnings and the fastest growing large economy status in the world," said ICICI Securities strategist Vinod Karki and Niraj Karnani in a note.
During the start of the year, India witnessed a sharp bout of FPI flows.
But since March–and May in particular—the FPI flows into India have been the highest compared to other EMs.
"There was much nervousness regarding whether there will be a contagion effect due to the banking crisis in the developed world.
"At that time, it looked like interest rates were increasing.
"But now, the perceived wisdom is that the interest rates have plateaued.
"And the banking crisis in the west has been contained," said UR Bhat, co-founder of Alphaniti Fintech.
Sharp FPI flows into the market have propelled the markets towards new highs.
However, this time around there is valuation comfort as the market has consolidated around current levels for nearly 20 months.
"Earnings had also gone up. As a result, we are in a peculiar situation where valuations were relatively attractive, even as the markets are near new peaks," said Bhat.
At present, the Nifty's valuation (price-to-earnings) premium over MSCI EM index at 56 per cent.
While this is significantly lower than the recent high of close to 100 per cent, it is above the long-term median of 45 per cent.
If valuations rise further, it could hamper fresh FPI flows into India, fear Karki and Karnani.
Some believe FPIs may not favour export-oriented economies.
"Once rate hikes peak, FPI flows go more into exporting countries in anticipation of a pickup in global growth.
"India will get a lot more foreign flow post-October.
"By that time the earnings forecasts will be better," said Andrew Holland, CEO of Avendus Capital Alternate Strategies.
Source: Read Full Article