Sources said the personal loans book may grow in the range of 30 to 40 per cent Y-o-Y on its current base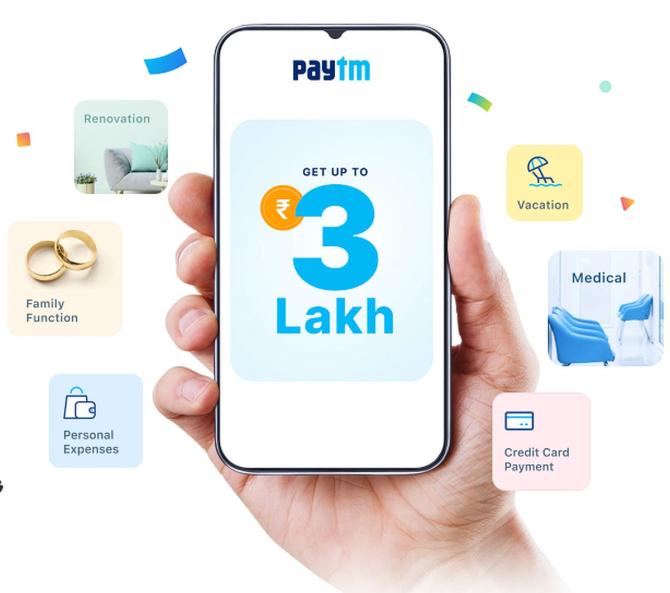 The growth in personal loans for fintech major Paytm may remain muted in the future and not replicate a three-digit year-on-year (Y-o-Y) growth that it recorded in the previous years, a person familiar with the matter said.
Sources said the personal loans book may grow in the range of 30 to 40 per cent Y-o-Y on its current base.
On a quarter-on-quarter (Q-o-Q) basis, the number of personal loans the Noida-based fintech company disbursed has dropped 20 per cent from 0.3 million in the first quarter of this financial year (Q1FY24) to 0.24 million in Q2FY24, according to regulatory filings.
However, the value of the loans disbursed on a Q-o-Q basis has dropped marginally from Rs 4,062 crore in Q1FY24 to Rs 3,927 in Q2FY24.
The company may be looking at faster, early delinquencies for people who have taken a personal loan for the first time.
Moreover, credit available for smaller tenures such as three and six months was experiencing higher leverage and a reduced collection efficiency, a source said.
As a result, the number of loans may have gone down as the company eliminated offerings with a tenure of six months or less, the person added.
To a detailed questionnaire sent to Paytm on the personal loans business, the company said: "We/our partners have reduced shorter tenor loans (6 months) on our platform since they were likely to be riskier, resulting in the reduction of the number of loans, while the disbursal volumes have remained steady.
"This has resulted in an increase in average tenure and average loan size for personal loan portfolios."
The average ticket size for personal loans in the quarter ending September was pegged at Rs 1,65,000 whereas the average tenure during the same period was recorded at 16 months.
Currently, the penetration of personal loans among Paytm's monthly transacting users (MTUs) is pegged at 1.1 per cent.
The company, which has three credit product offerings that includes Paytm Postpaid (a Buy Now, Pay Later facility), personal loans and merchant loans, has disbursed loans to 11.8 million unique users through its platform as of September 2023.
Moreover, Paytm is looking to penetrate its existing base of users instead of acquiring new customers for its credit business to grow.
More than 9.2 million merchants pay subscription for the company's devices which includes Paytm's suite of soundboxes and POS (point-of-sale) devices.
The company's soundbox segment includes a pocket soundbox, a card soundbox and a music soundbox.
The company may not see any plateauing in the business of sound boxes for three years on the back of constant innovation and strong channels of distribution, an analyst aware of the development said.
As a result, on the merchant loans front, Paytm may see a higher growth on the back of improved penetration of soundboxes among merchants in the market, an eligible merchant base which records substantial GMV (gross merchandise value) and meets the risk criteria of Paytm's lending partners.
The company has partnered with nine non-banking financial companies (NBFCs) and banks for its credit card and loan distribution business.
Meanwhile, Merchant loans will grow in the excess of 50 to 60 per cent, a source said.
Paytm has witnessed steady growth in its merchant loan business. In Q2FY24, it disbursed 0.18 million merchant loans, up from 0.14 million merchant loans in the previous quarter.
The value of these loans has also inched up substantially.
It has grown from Rs 2,744 crore in the quarter ending June this year to Rs 3,275 crore in the quarter ending September 2023, marking a 19 per cent increase.
The penetration of merchant loans is pegged at 6.4 per cent out of the fintech's total merchant devices that it has deployed.
In Q2FY24, the company saw its net loss narrow to Rs 290.5 crore on a consolidated basis from Rs 357 crore in Q1FY24.
The company had posted a loss of Rs 571.1 crore in the second quarter of the last financial year (Q2FY23).
One97Communications, the parent company of Paytm, saw its total income rise 8 per cent on a quarter-on-quarter basis from Rs 2,464.2 crore in Q1FY24 to Rs 2,662.5 crore in Q2FY24.
On a year-on-year basis, the company's total income rose 32.2 per cent from Rs 2,013.6 crore.
The company reported a 7.6 per cent quarter-on-quarter increase in revenue from operations to Rs 2,518.6 crore in Q2FY24, up from Rs 2,341.6 crore in Q1FY24.
Source: Read Full Article