Start-ups such as Max Wholesale, Jumbotail and ShopKirana are helping them place orders, maintain inventory, optimise delivery routes and make payments, all digitally.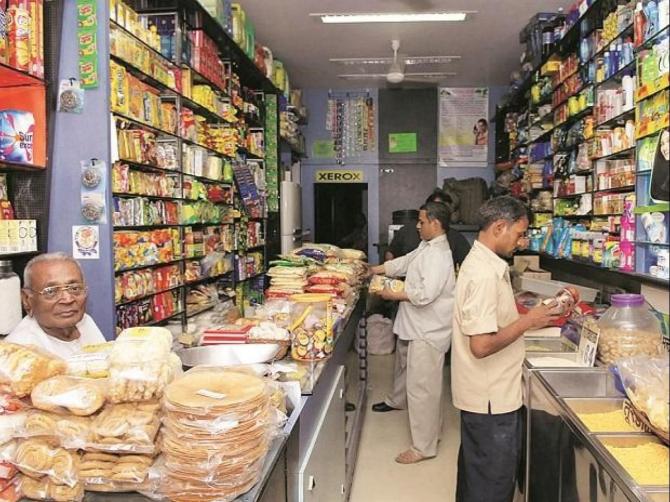 In India, kirana stores form an intrinsic part of every locality. Even though the Amazons and Flipkarts of the world are vying for a slice of this market, these local mom-and-pop stores are going strong as well.
There are around 12 million kirana stores in the country each of which are doing 100-200 transactions a day on average but no company so far has been able to capture these millions of transactions.
In 2016, IITian Samarth Agarwal, who used to trade stocks on the BSE and NSE, felt technology was missing at his neighbourhood kirana which was doing brisk business otherwise.
He discussed this with his neighbour Rohit Narang, whose family owned several kirana stores in Delhi.
This led Agarwal to develop an app for Narang's retail stores to manage sales within a few days.
The duo went deeper into the supply chain problem and realised that sales volume was not the problem but it was getting the right products at the right time which was a worry for traders.
Hence, the two friends started Max Wholesale, a deep tech start-up to help kiranas go digital.
The company, which serves 20,000 retailers, today has 100 per cent of its sale coming through the app.
"In the next five years, we want one million stores to buy via our platform.
"We want to provide them with technology to sell to their customers and become a B2B2C company, providing technology for free to help retailers manage customers," says Agarwal.
For this, the company has introduced an app called Radius.
The app which is beta phase will be rolled out in the market by Diwali.
As the name suggests, any retailer can connect via the app to customers within 2 km radius of his shop.
The customer can see all the products on a digital catalogue which will be managed by Max Wholesale.
On this platform, a customer can move through the catalogue, place an order, be able to chat, and make payments remotely.
The start-up feels this initiative will increase the sales of the kirana stores by up to 20 per cent.
Start-ups such as Max Wholesale, Jumbotail, and ShopKirana are helping kirana stores in placing orders, maintain inventory, optimise the delivery routes and make payments, all digitally.
These start-ups are also using predictive analytics tools and platform to manage the warehouses of the kiranas and recommend them on what inventory to keep in bulk and what to cut down depending on demand.
Apart from providing a full suit procurement services based on technology for kiaran stores, Jumbotail is giving the kirana stores an option to convert into an omnichannel store.
Once a kirana store signs up for this programme, his store becomes a part of Jumbotail's branded J24 stores.
The retailer gets a PoS which plugs into the company's supply chain network through which he gets auto fulfilment.
The shop owner gets new deliveries every day based on the requirements.
"The data gives him the recommendation on what to buy for his shop.
"He gets data on what is selling, what is not selling, what pricing would help drive more customers into the store," explains Ashish Jhina, cofounder and COO, Jumbotail.
Via J24, the kirana store operator gets a lot of insights around how his/her performance is improving and receives suggestions on new types of products that he should be stocking.
He can also sell online through the J24 portal and expose his inventory to customers looking to buy via portal such as Swiggy and Dunzo.
The company is looking at signing 300 stores under the J24 programme over the next 6-9 months.
"Because there is a delivery mechanism on daily basis, small stores can hold less inventory with more number of products which also plays a pivotal role in increasing sales," says Jhina, whose company is backed by VCs such as Kalaari Capital and Nexus Venture Partners.
Indore-based ShopKirana is building several other features on top of its procurement platform to help kiranas cross-sell products such as insurance, travel tickets etc. during their free time and increase revenues.
"Kirana store operators are like a doctor of the FMCG world.
"They have a lot of influencing power on their customers. Hence, these people are great cross sellers and there is a whole ecosystem that can be built around kirana stores," says Sumit Ghorawat, co-founder of the B2B ecommerce start-up.
The company currently claims to have 50,000 kirana stores on its network spread across 8 tier-II cities.
Jhina of Jumbotail feels about 25-30 per cent of the top kiranas in the country will become branded in the next 5 years which will transform the kirana ecosystem in the country.
"Ecommerce will be driven more through kirana retail than through models such as BigBasket or Grofers because over 80 per cent of all transactions in the country are less than Rs 200.
"Only way to profitably serve these transactions is through kirana stores," he adds.
Photograph: PTI Photo
Source: Read Full Article