'The semiconductor supply is constantly improving, with visible green-shoots in the situation as compared to earlier part of last year'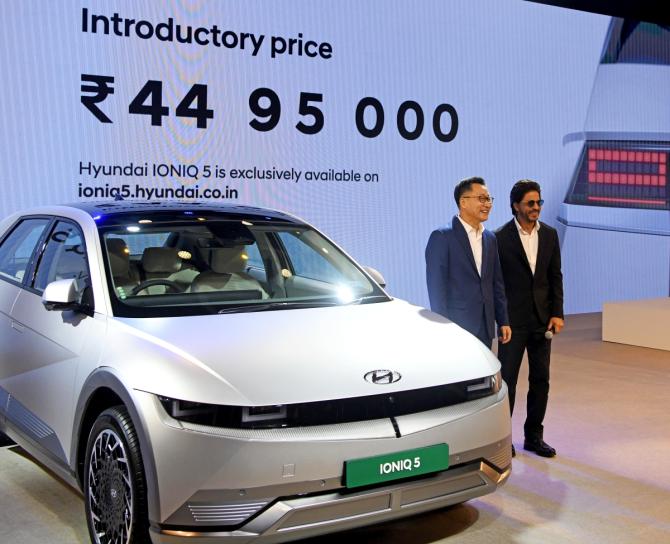 Hyundai Motor India Ltd (HMIL) plans to come up with six electric vehicles (EV) by 2028 and it will focus on technology, sustainability and innovation for growth, said Unsoo Kim, the company's managing director and chief executive officer.
Kim spoke to Shine Jacob at the Auto Expo 2023 about EVs, the Indian market and consumer interest in SUVs.
You are launching Hyundai IONIQ 5 at Auto Expo. What is your EV roadmap like?
We are excited to launch the all-electric SUV Hyundai IONIQ 5, Hyundai's first dedicated EV model to be launched in India for customers that want to be in charge of a brighter and more sustainable future.
The all-electric SUV has been recognised as one of the top five EVs worldwide and will headline Hyundai's initiative to drive the electric vehicle adoption in the country.
HMIL was the first company to launch a long-range electric SUV, Kona Electric, in 2019.
As we continue to redefine the mobility space, we have announced phase-wise investment of Rs 4000 crore towards developing six electric vehicles in India by 2028.
By doing so, we aim to bring vehicles to the Indian market that not only excite our customers with sensuous sportiness, but also empower our customers in doing their bit towards creating a sustainable environment.
Our line-up of six electric vehicles will cater to multiple segments, including mass-market and mass-premium segments in India.
Hyundai Motor India will also introduce the electric vehicles in different body styles, including SUV body shape by 2028, thereby offering a wide range of models for customers to choose from.
The company will continue to take its customers' experiences 'Beyond Mobility' by strongly focusing on the three-pronged approach of intelligent technology, sustainability and innovation.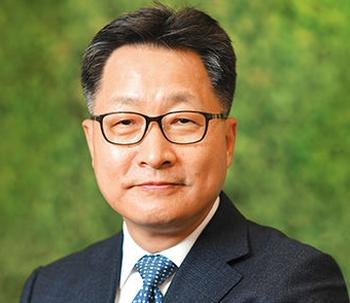 What solutions are you considering for infrastructural concerns related to EVs?
Hyundai recently joined a strategic alliance with Tata Power that will facilitate the installation of public EV charging stations at dealer locations and end-to-end charging solutions will be installed at home for customer convenience and hassle-free drive, and strengthened its commitment towards clean and green mobility.
You posted the highest-ever sales in 2022. How do you see growth in the Indian market?
In CY 2022, Hyundai Motor India recorded the highest-ever domestic sales since its inception of 552,511 units with a growth of 9.4 per cent year-on-year.
Our relentless pursuit to redefine customer experience, strong product portfolio combined with a constant endeavour to challenge existing boundaries has helped us in achieving this pivotal feat.
On the back of customers' rising affinity for SUVs, we further strengthened our SUV line-up with the introduction of three new trend-setting SUVs — "all-new Hyundai Venue", "all-new Hyundai Tucson" and "Hyundai Venue N Line" to establish new industry benchmarks.
Hyundai also sold 349,884 in CY2022 connected cars since the launch of Venue in May 2019, and witnessed a healthy growth in the sales ratio of connected cars from 4.7 per cent in 2019 to 25.6 per cent in 2022.
As new-age customers are becoming more tech- savvy, the choices being made by them are defined by advanced technologies, brand persona and premium ownership experiences. And with Hyundai catering to the diverse needs of the new-age customers with its trend-setting products, there is a Hyundai car for everyone.
Do you think the Indian market is shifting towards the premium segment as SUVs and above-Rs 10 lakh sales have increased?
India's young population and favourable demographics offer significant growth opportunities for the automotive sector as customer demand evolves across markets.
At Hyundai Motor India, we understand that modern customers look for a versatile SUV that caters to their mobility requirements by offering a unique, feature laden and premium travel experience.
Presently, SUVs contribute to more than 50 per cent of our overall volumes.
Creta registered its highest ever annual sales volume of 140,895 units in CY 22 since its introduction in 2015.
HMI has registered 293,852 SUV sales in CY2022 and contributes to 18.3 per cent of the industry SUV share.
Where are you placed in terms of the semiconductor crisis? Is the industry out of it?
The semiconductor supply is constantly improving, with visible green-shoots in the situation as compared to earlier part of the year.
Currently, we are progressing to bring the demand and supply in sync to serve our customers at the earliest by working with our partners and vendors to fulfill customer purchases.
In CY2022 we also recorded our highest-ever domestic sales of 552,511 units since inception.
Additionally, with smart manufacturing processes and through incremental capacity creation, de-bottlenecking processes and automation, we are addressing elevated customer demands, and monitoring processes in real-time to expedite vehicle deliveries [and] thus, putting a smile on our customers' faces sooner.
HMIL also continues to be the top exporter from India in the cumulative exports volume terms, with over 3.3 million units exported till date.
HMIL is the first and only OEM to have crossed the 3 million exports mark.
HMIL exported 148,300 units in 2022 as compared to an export volume of 130,380 units in 2021.
The export volume in 2022 showed a healthy growth of 13.7 per cent over last year's performance owing to improvement in key component supplies and the easing out of the Covid-19 pandemic situation.
What is your roadmap for the India unit, in terms of domestic sales and exports, by 2025?
The auto industry over the last two years witnessed unprecedented changes.
We have persevered in the face of strong economic headwinds and continued to take our customers 'beyond mobility'.
As we anticipate continued demand for our most popular products, we intend to further strengthen customer affinity for Hyundai models that redefine segments and continue challenging the status quo year on year.
Feature Presentation: Rajesh Alva/Rediff.com
Source: Read Full Article