Little Richard, who laid a foundation for rock 'n' roll with his raspy, shouted vocals, piano riffing, nonsensical lyrics and outlandish style, died on Saturday morning. He was 87.
His son, Danny Jones Penniman, confirmed the death but said the cause wasn't immediately known, Rolling Stone reported.
By fusing rhythm and blues with the gospel music he learned as a child, Little Richard created a sound all his own. "Tutti Frutti," his first hit single, introduced the phrase "a-wop-bop-a-loo-mop, a-lop-bam-boom" to popular culture. His work influenced generations of musicians.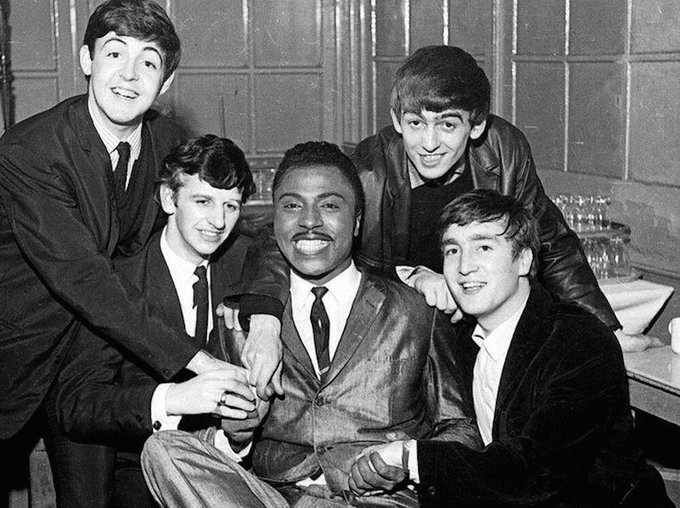 "He was my idol at school," Paul McCartney said in "The Life and Times of Little Richard," a 1984 biography by Charles White. The first song McCartney sang in public was Little Richard's "Long Tall Sally," which the Beatles recorded in 1964.
Twenty-one of Little Richard's singles reached the U.S. pop charts in Billboard magazine. Most of them were recorded from 1955 to 1957, when he found religion. He swung between the sacred and the secular for the rest of his life.
"Great Gosh A'Mighty (It's a Matter of Time)," the theme from the 1986 film "Down and Out in Beverly Hills," was his final hit. He also appeared in the movie as a businessman's cranky next-door neighbor.
Little Richard distinguished himself by his appearance as well as his music. He found a role model inEsquerita, a singer and pianist known for a 6-inch pompadour, rhinestone-bedecked sunglasses and a campy stage act, who met him in the early 1950s and taught him piano.
Like Liberace
"You remember the way Liberace dressed onstage?" he said during an interview with Rolling Stone magazine in 2004. "I was dressing like that all the time, very flamboyantly, and I was wearing the pancake makeup."
Richard Wayne Penniman was born Dec. 5, 1932, in Macon, Georgia, the third of 12 children of Charles "Bud" and Leva Mae Penniman. His father worked as a brickmason, sold moonshine, and ran a juke joint called the Tip In Inn.
Religion ran deep in his family. Bud's father, Walter Penniman, and Leva Mae's brother, Louis Stuart, were preachers. Little Richard's parents met at a church revival. He sang gospel as part of a family group, the Penniman Singers, and a children's chorus, the Tiny Tots Quartet.
When he was 13, he was kicked out of the house and moved in with Ann and Johnny Johnson, who managed Macon's Tick Tock Club. He sang at the nightclub and played saxophone in his high-school band before leaving town to join traveling shows.
'I Was Different'
Little Richard discovered along the way that he was gay. "I knew I was different from the other boys as I got older," he said in White's biography. "Many of the boys had crushes on other boys as friends, but mine was the whole thing."
RCA Records signed him in 1951 and his initial recordings were made that year. "Every Hour," a song from the first session, was released as a single and became a local hit. A second session with RCA failed to duplicate that success.
Just four months after his studio debut, his father was shot dead outside the Tip In Inn. Little Richard washed dishes at the Greyhound bus station in Macon to support his family and played at the Tick Tock Club at night.
Peacock Records, a rhythm-and-blues label, then signed him. He recorded with two bands, the Deuces of Rhythm and the Tempo Toppers, as well as the Johnny Otis Orchestra. Those sessions didn't deliver any hits.
In 1955, Specialty Records gave him another chance after hearing his demo tape. He went to New Orleans that year to record with the studio band for Fats Domino, the singer and piano player who was already a star and whodied in 2017.
'Tutti Frutti'
During a lunch break in his first session, he played "Tutti Frutti," featuring "good booty" and other suggestive lyrics. Specialty Records arranged for a songwriter, Dorothy LaBostrie, to produce a cleaned-up version he recorded later that day.
"Tutti Frutti," featuring falsetto shrieks as well as "a-wop-bop," became his first hit single. "Long Tall Sally" followed in 1956, as did "Slippin' and Slidin,'" "Rip It Up" and "Ready Teddy."
There were more hits in 1957, including "Lucille," "Jenny Jenny" and "Keep a-Knockin.'" "Good Golly Miss Molly," released the next year, rose to Billboard's top 10.
Before that run of success ended, Little Richard walked away from rock 'n' roll. He left an Australian tour in 1957 and returned to the U.S., where he enrolled at Oakwood University in Huntsville, Alabama, run by the Seventh-day Adventist Church.
Oakwood awarded him a Bachelor of Arts degree and he became a preacher and gospel singer. In 1959, he married Ernestine Campbell, who was just out of high school when she met him at an evangelical meeting. The couple divorced two years later.
Jimi Hendrix
During a U.K. tour in 1962, he began playing rock music again. He appeared with the Beatles that year at the Star Club in Hamburg. His band later included a guitar player who called himself Maurice James and later became known as Jimi Hendrix.
Although his concerts were well received, his singles were no match for his 1950s hits with music buyers. In 1976, Little Richard abandoned rock again and kicked what had become a $1,000-a-day drug habit. He sold Bibles door-to-door and went back to preaching and gospel singing.
"Life and Times" returned him to the public eye, and he embraced popular music once more without giving up on religion. He played his hits in concert and made new records, including an album of children's songs, "Shake It All About."
TheRock and Roll Hall of Fame included him in its first round of inductees in 1986. He later received a lifetime achievement award from the National Academy of Recording Arts and Sciences, home of the Grammy Awards.
Little Richard's religious bent and industry honors didn't stop him from complaining that people didn't pay him enough for his music over the years. He summarized his view in an updated edition of "Life and Times," published in 1994:
"I am an artist. I am a star and a creator. I am the originator of this music and these songs are classics. I am sure they were hoping that I would be dead by now, but God has given me longevity, thank and praise his holy name."
Source: Read Full Article