Fund managers are withdrawing after a two-year long run in public sector bank (PSB) stocks.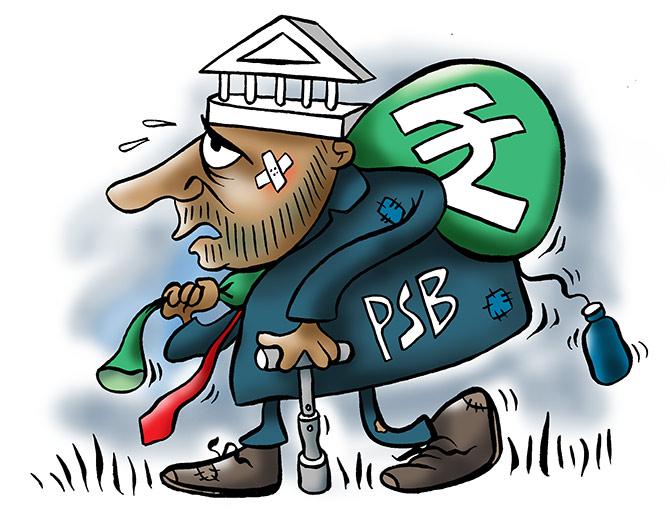 Domestic mutual funds (MFs) were net sellers of PSB stocks for the first time in nine quarters, offloading shares worth Rs 1,800 crore in the March quarter, said a report by ICICI Securities.
In the previous eight quarters, fund houses had invested more than Rs 10,000 in PSBs amid deep discounts in valuation vis-à-vis their private sector peers.
Fund managers said the upside potential of PSBs could be limited in the near-term as most positives are priced in and as that happens private banks are turning attractive.
"Since most of the improvement is already visible and valuations are near the fair zone (even expensive in few cases), the journey upwards from hereon is a tough task.
"On the other hand, you have some large private sector banks which have not delivered any returns to the investors in the past two years.
"Given the price value gap and a comfortable risk-reward perspective, it makes a good sense to move some mo­ney to private banks and book out from PSU banks," said Sumit Agrawal, senior fund manager — equity, Bandhan MF.
The PSB pack was the best-performing sectoral index in FY23, gaining 36 per cent even as the benchmark Sensex gained barely a per cent.
PSB gains would have been better if not for a 14 per cent drop during the March quarter amid selling by MFs.
On an average, the top 20 MFs had 3.8 per cent of the equity portfolio invested in PSB stocks at the end December quarter.
The exposure was down to 3.2 per cent by the end March quarter, shows data from a Motilal Oswal Financial Services report.
The PSB rally came on the back of business improving as the pandemic's impact declined.
While their asset quality was already strong before the onset of the pandemic, higher credit offtake and margins increasing in tandem with the rate hikes ensured bumper profits for state-run banks.
In FY22, many PSBs reported doubling net profits.
"With the interest rate going up, banks' margins were expanding.
"In 2021, liquidity was high and it was ensuring higher credit offtake.
"This is why we saw banks declaring bumper results over the last few quarters," said Divam Sharma, smallcase manager and co-founder, Green Portfolio.
Sentiment about banking shares turned sour in March after the collapse of the Silicon Valley Bank in the US and fears of contagion risk.
Foreign portfolio investors, who turned net buyers of Indian equities in March, remained net sellers of financial stocks.
Among domestic factors, banks' growth is expected to moderate due to higher interest rates.
"With the rising interest rate cycle, where RBI increased the repo rate by 250 basis points over the last year, the growth prospects could moderate to a more sustainable range.
"Valuations have risen to their earlier averages.
"Hence investors, including MFs, started paring down their shareholding in the PSBs.
"In the recently ended quarter, of the 12 banks, MFs cut stakes in 7 entities, remained neutral in 2 and increased their holding in 3 banks," said Gopal Kavalireddi, head of research, FYERS.
Source: Read Full Article