Are 'dubious' new categories and 'shady' new brands, financed and funded by avaricious investors, trying to change the contours of the Indian marketplace forever, asks ad guru Sandeep Goyal?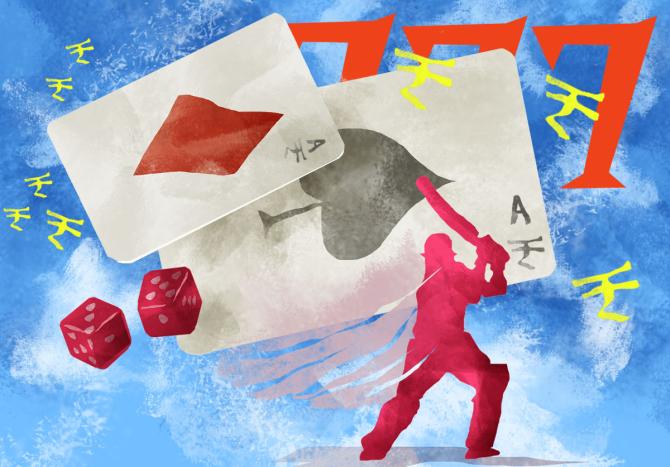 It struck me as very interesting (and somewhat intriguing) that almost every alternate commercial on the current Indian Premier League broadcast has a statutory warning tagged to it.
Every real-money gaming app, every fantasy league, every financial products brand, every payment gateway — each hi-decibel offering on the cricket league seems to carry cautionary supers and near-mechanical, ominous sounding monotone voice-overs warning viewers on potential pitfalls related to the usage of the very products being advertised.
Not to be left behind, most mobile phone ads have disclaimers on features and technology in unreadable fine print; tobacco substitutes masquerading as 'elaichi', or something similar, have their own set of innocuous disclaimers; and action sequences in lifestyle ads warn viewers through warning supers that the stunts seen in the ads should not be emulated by ordinary folks as they are performed by experts.
What is the business of advertising coming to? More warnings, less messaging? Or is the issue much deeper?
Are 'dubious' new categories and 'shady' new brands, financed and funded by avaricious investors, trying to change the contours of the Indian marketplace forever?
Capture consumer minds through heavy spending — get them hooked on to products or services that require caveat emptor warnings?
One hardly gets to see ads on IPL any longer for 'innocent' day-to-day products (those that don't need statutory warnings) like soaps and shampoos, or tea and coffee, or shoes and shirts.
It is almost as if these categories either don't exist or consumers no longer need them or more honestly, since investors don't invest in these humble product lines, they have no budgets to buy ad-spots on IPL for Rs 14 lakh-Rs 15 lakh (Rs 1.4 million-Rs 1.5 million) per 10-seconds.
How come these statutory warnings were not there during the last IPL, and are now tagged on to most ads?
The Advertising Standard Council of India issued guidelines for advertisers in relation to online gaming for real money winnings, effective from December 15, 2020.
The Gaming Guidelines addressed two key concerns around advertising of online games relating to real money: i. risks of financial loss; and ii. addictive nature of such games.
The Gaming Guidelines were issued after consultation among the ministry of Information and broadcasting, the ministry of consumer affairs, ministry of electronics and information technology, and industry stakeholders such as ASCI, the News Broadcasters Association, the Indian Broadcasting Foundation, the All India Gaming Federation, the Federation of Indian Fantasy Sports and the Online Rummy Federation.
The I&B ministry then issued an advisory on December 4, 2020, directing all private television satellite channels to ensure that advertisements appearing on television channels adhere to the Gaming Guidelines.
The Gaming Guidelines mandate: 1. No depiction of minors; 2. Disclaimers that state, 'This game involves an element of financial risk and may be addictive. Please play responsibly and at your own risk'.
In TV commercials, the disclaimer has to a. be placed at normal speaking speed at the end of the advertisement; b. be in the same language as the advertisement; c. be in both audio and visual format.
So, now all ads in these identified categories come with statutory warnings similar to the ones you once saw only on ads for cigarettes or liquor or for companies that were going to tap capital markets.
The guidelines may say 'no depiction of minors'. But in real terms the intent actually is how to address and resolve the enticing of minors.
Nearly 42 million (11 per cent) of IPL's viewers are boys 2-14 years old; 35 million (9 per cent) are girls 2-14; 39 million (10 per cent) are men 15-21 and 32 million are women 15-21 (8 per cent). These are all official BARC figures.
Mere five-seconds long statutory warnings cannot prevent the 148 million viewers (38 per cent of cumulative viewership) of the IPL aged 2-21 years, from wanting to play real-money games when Rs 1,500 crore- Rs 2,000 crore (Rs 15 billion to Rs 20 billion) of advertising spends are being bank-rolled to actually attract, if not bait, them by using top sporting and Bollywood celebrities.
I pioneered the first fantasy league in India in 2008. You had to pay nothing to sign up and the prizes ranged from mobile phones to cameras, all funded by sponsors. There was no money at risk at all.
Today, even for older viewers/players can five-second warning tags prevent financial loss or prevent them from getting addicted to the so-called fantasy games which are actually real-money games?
The moot point is that these games are no longer only entertainment. They are traps for potential gambling.
When all the various ministries and industry bodies got together for so-called consultations and consensus, how come none of them asked to address the core issues: Ensnaring gullible players and preventing potential ruin through addiction under the garb of gaming?
Statutory warnings are at best cosmetic solutions. They are by no means 'responsible' advertising.
Rather than allow all this back-door gambling, enriching a few 'gaming' companies and generating billions of dollars in valuations for foreign investors, online gambling should be officially opened up.
It will banish the current hypocrisy and fill the State coffers legitimately.
Feature Presentation: Rajesh Alva/Rediff.com
Source: Read Full Article