The Reserve Bank India's (RBI's) decision to ban the onboarding of new accounts on the "bob World" mobile digital platform led to a selloff in the Bank of Baroda (BoB) stock.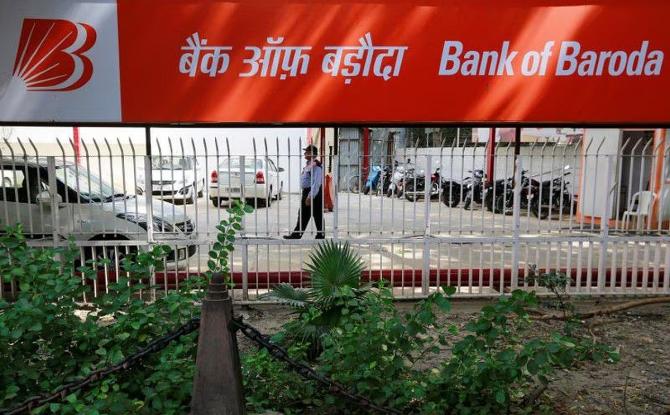 The stock of the public sector bank dropped by around 3 per cent.
The central bank cited "material supervisory concerns"; news reports claimed mobile numbers were randomly linked to accounts to purportedly inflate registrations on bob World.
The Q1FY24 data indicated over 90 per cent of savings and current accounts were sourced digitally. Also, 43 per cent of time deposits in Q1FY24 were sourced via bob World.
In addition, 74 per cent of retail loans were sourced through the app.
Around 61 per cent of credit cards and 89 per cent of personal loans were sourced digitally.
Even in other retail products, 67-68 per cent of home loans and auto loans were sourced digitally.
While existing accounts can continue to use bob World, the ban shall slow growth in new accounts and on both asset and liability sides.
This is a cause for concern given the rising mix of digital sourcing and the higher cross-selling rates bob World enabled.
BoB released its Q2FY24 business update a few days ago.
The details were encouraging as the second-largest PSU Bank reported robust growth.
Total advances grew 17 per cent year-on-year (4 per cent quarter-on-quarter) to Rs 10.3 trillion, with domestic advances up 16.6 per cent Y-o-Y (3 per cent Q-o-Q).
The international book rose 21 per cent Y-o-Y (up 6.4 per cent sequentially).
Domestic retail loans grew 22.5 per cent Y-o-Y (5.4 per cent Q-o-Q).
Total deposits grew 14.6 per cent Y-o-Y (up 4.2 per cent Q-o-Q) to Rs 12.5 trillion, with domestic deposits up 12 per cent Y-o-Y (up 2.3 per cent Q-o-Q).
International deposits jumped 32 per cent Y-o-Y (up 15.8 per cent Q-o-Q).
Domestic CASA deposits increased 4.4 per cent Y-o-Y (up 1.1 per cent sequentially).
The ban is bad for the sentiment. Finding alternative channels for growth would take time; the pivot is forced in Q3FY24, which is the crucial festival season for a retail-focused lender. Before these issues, BoB was seeing fair support with analysts positive on the Q2FY24 update.
The management guidance was for advances growth of 14-15 per cent in FY24, beating the industry rate, mainly through the retail focus.
BoB posted its highest-ever quarterly profit in Q4FY23, supported by broad-based credit growth, high margins, and improving credit quality.
It showed improvement over that in Q1FY24 with 2.2 per cent Q-o-Q advances growth.
Asset quality also continued to improve with gross net performing assets (GNPA) and net NPA currently standing at 3.51 per cent and 0.78 per cent.
BoB reported a net interest margin (NIM) of 3.31 per cent in FY23.
If interest rates are stable with a possible rate cut in Q4FY24, the NIM may decline but it shall still be 3 per cent-plus and climb slightly higher in FY25.
Apart from the retail focus, the significant improvement in corporate balance sheet health could also be a positive for the bank's books since BoB's issues in the past were due to large corporate defaults, which led to lower asset quality and spikes in credit costs.
BoB will have to find alternative channels to access new customers until such time as the ban is rescinded.
This will impact growth and perhaps, it will raise costs.
But it should not impact asset quality.
There could be some further downside due to adverse sentiment.
Valuations may look reasonable once the market has discounted the impact of the ban.
Disclaimer: This article is meant for information purposes only. This article and information do not constitute a distribution, an endorsement, an investment advice, an offer to buy or sell or the solicitation of an offer to buy or sell any securities/schemes or any other financial products/investment products mentioned in this article to influence the opinion or behaviour of the investors/recipients.
Any use of the information/any investment and investment related decisions of the investors/recipients are at their sole discretion and risk. Any advice herein is made on a general basis and does not take into account the specific investment objectives of the specific person or group of persons. Opinions expressed herein are subject to change without notice.
Source: Read Full Article