RuPay is working on how to increase offers to customers. It is also focused on technology innovation in the card payment system.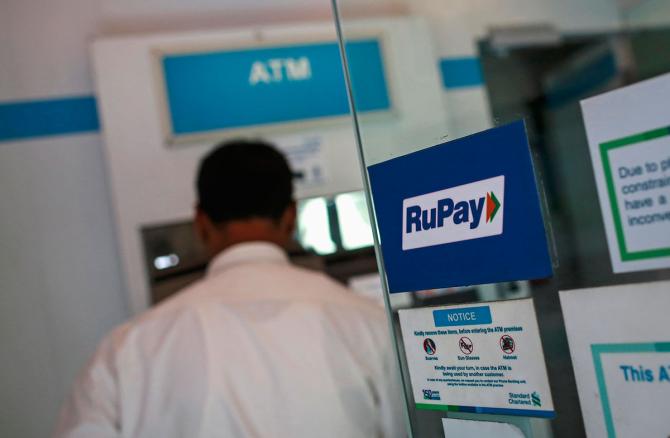 Introduced nine years ago, India's indigenous card payment network, RuPay, has cornered a sizeable market share, driven by the government's financial inclusion drive.
Accounts opened under the Jan Dhan scheme get the RuPay debit cards, but credit cards, considered a niche product in India, form a minuscule portion of its card business.
As of March 10, around 308.5 million RuPay debit cards were issued for accounts opened under the Jan Dhan Yojana.
Having said that, the National Payments Corporation of India (NPCI), the umbrella entity for digital payments in the country and which operates RuPay, is looking to expand its credit card business by broadbasing it.
The Reserve Bank of India (RBI) data says RuPay had around 970,000 credit cards as of November 2020, which is 0.15 per cent of all its cards.
Speaking to Business Standard, Dilip Asbe, managing director and chief executive officer, NPCI, said: "We have been working in a focused manner to grow the credit card segment because NPCI has a role in taking the RuPay credit card to the masses.
"We are live with large issuers such as SBI Cards, HDFC Bank, Punjab National Bank, and Union Bank of India. We are going live with Bank of Baroda very soon and are in the process of going live with ICICI Bank and Axis Bank."
As of February 2021, there are 628.41 million RuPay cards across all the categories, including prepaid, debit, credit, and commercial cards. These cards are issued by more than 1,000 banks currently.
RuPay accounts for nearly 35 per cent of the card market in India. But in terms of the number of cards issued, RuPay's market share has increased to more than 60 per cent from 17 per cent in 2017, according to the Reserve Bank of India's booklet Payment Systems in India (2010-20).
RuPay's primary competitors in the card space are Visa, MasterCard, and American Express. All three were instrumental in developing the digital ecosystem in India.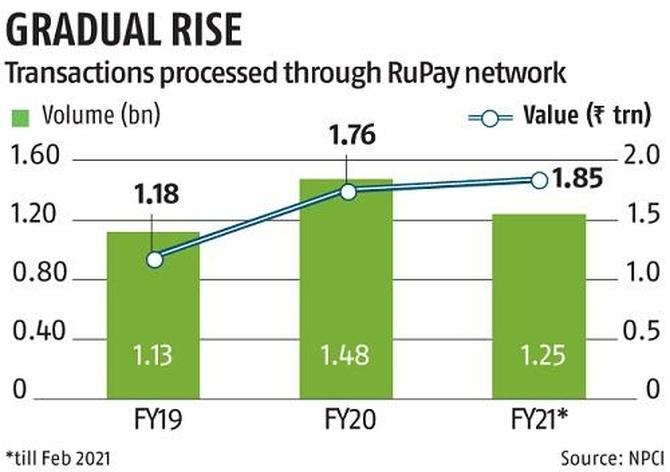 According to the RBI data, in India, over the past 10 years, during the period between FY11 and FY20, the number of debit cards issued increased from 227.8 million to 828.6 million.
Of those, around 300 million were RuPay debit cards issued to basic savings bank deposit (BSBD) account holders.
During the same period, the number of credit cards issued increased from 18 million to 57.7 million.
"Any player that wants to be a leader in the segment aspires to have a 50 per cent market share. NPCI is working on achieving it," said Asbe.
"Initially we started with an ATM card and then we started working on the PoS, and e-commerce acceptance. The full-fledged international debit card we launched was in 2016-17.
"We worked on some of the new technologies as far as cards are concerned such as contactless cards and tokenisation. We worked with the government closely on building national common mobility card standards and we did launch the one-nation, one-card," he said.
An independent expert tracking digital payments said in the debit card segment, RuPay had been successful.
The government has nudged banks to issue RuPay cards as the first option to customers.
From a credit card perspective, it has not seen much traction because the benefits on the other two card networks are better. And, that is what the NPCI is working hard on.
Ravindra Pandey, deputy managing director (strategy) and chief digital officer, State Bank of India (SBI), said his banks and other public sector ones issuing the Rupay debit card was a default option.
That is, if a customer does not ask for a particular card, SBI issues a Rupay card. Around 70 per cent of new issuances are on the RuPay platform.
A few months ago, the finance minister had urged the banks to issue RuPay cards as the first option to customers.
Just before the pandemic, there were more than a thousand offers on RuPay cards but currently, there are 350 that customers can avail of.
RuPay is working on how to increase offers to customers. It is also focused on technology innovation in the card payment system.
Recently it launched Soft PoS, where the mobile phone will become the PoS for merchants, resulting in further acceptance of the digital payment methods by merchants.
Apart from that, NPCI has also set its eyes on expanding its international footprint.
It has established bi-lateral connectivity with Singapore, Bhutan, and a few other countries, and signed MoUs with countries such as the UAE, the Maldives, and Bahrain.
More importantly, it, along with the State Bank of India, has tied up with Japan's JCB International, which is a major global payment brand and a leading credit card issuer and acquirer in that country.
Feature Presentation: Rajesh Alva/Rediff.com
Source: Read Full Article