In many states, aggregators operate without a licence; in others, with the risk of the licence being revoked by any regional transport office on the slightest pretext.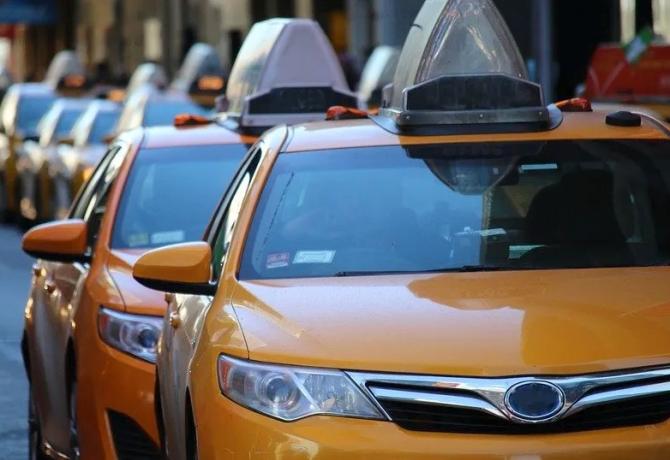 Ride-hailing companies or cab aggregators in India generate 4 million rides every day in around 200 cities.
As much as 50-60 per cent of their revenues come from the country's top 10 cities.
Now, almost a decade in operation and default public transport option for middle-income Indians, the industry faces troublesome regulatory issues.
One is the multiplicity of rules across states, even though the ministry of road transport and highways came out with model guidelines three years ago.
This variability leaves cab aggregators facing a plethora of rules across India.
Some of them are bizarre, such as West Bengal's stipulation that customer data must be stored with the state.
In many states, aggregators operate without a licence; in others, with the risk of the licence being revoked by any regional transport office on the slightest pretext.
"The market for ridership would have been at least 2-3x bigger if states and platforms would have converged. The uncertainty might impact investment," said a senior executive with one of the aggregators.
But cab aggregators say the central guidelines themselves are archaic, impractical, and excessive.
Last month, the Supreme Court issued directions that could mark a step forward in this messy business.
First, it directed Uber to immediately apply for a licence to operate in Maharashtra within three weeks; otherwise, it would have to halt operations.
Uber had appealed to the Supreme Court against a Bombay high court order to implement the central guidelines on various grounds.
Importantly, the apex court also pulled up the Maharashtra government for delays in finalising rules, impacting the aggregators' businesses.
It ordered the state to formulate rules and guidelines for cab aggregators within six weeks.
The implication of this direction is that it sets a deadline of sorts to resolve disputes between cab aggregators and the states.
A top executive in a cab aggregator business says: "I am looking at the Supreme Court order as a forcing mechanism to bring stability to a sector that is more than 10 years old so that it can focus on innovation."
Cab aggregators with reservations about the guidelines can now make representation to the state government, but the state has to come up with a final call within three weeks. If aggregators are still unhappy, they can challenge it in a high court.
But it is unclear whether all this can be sorted out in three weeks.
At the core of the problem is the Model Motor Vehicle Aggregators Guidelines of 2020, which MoRTH issued after the Centre added, in 2019, Clause 93 to the Motor Vehicles Act that brought cab aggregators under a uniform licensing regime for the first time.
The problem is that nearly 14 states had already issued cab aggregators licences under their state laws before 2019 — Karnataka, for instance, had introduced rules in 2016.
The Centre's 2019 amendment of the Motor Vehicles Act and the 2020 guidelines meant all states have to rework their legislation to regulate cab aggregators.
That has been the challenge. Aggregators say only West Bengal has guidelines and Assam recently issued a new set of guidelines that has still not been implemented.
Others like Delhi are in discussions with stakeholders.
This apart, cab aggregators say the central guidelines are unworkable in parts or opaque.
For instance, ride-hailing companies under the central guidelines have to set up simulators in every city and test drivers on it.
They also need to buy insurance for every driver.
Plus, only drivers with experience of two years or more can drive a taxi (though there is no such rule for drivers of commercial vehicles).
Aggregators also need to share data between platforms on driving hours, which aggregators say is impractical.
They also need to install physical safety alarms that are integrated with government agencies whereas aggregators say integrating with the companies' safety helplines would be more scalable.
"A driving test is the responsibility of the state and simulators cost money. But your licence can be revoked for failure to do so. Buying insurance for all drivers is prohibitively expensive as most drivers work on dual or triple apps today," said the executive of a ride-hailing company.
"Instead, the government should implement the code of social security for gig workers, which was passed years ago," the executive added.
There are differences among aggregators over the central guideline capping surge pricing to 1.5x of the base fare and the rule that a Rs 100 fine would be imposed on the rider or the driver in case of cancellations, depending on who cancels the ride.
A senior Ola executive pointed out, "We generally never go beyond that. In India no consumer will pay 4x or 5x fares, which happens globally. At the most we would be happy at 2x, but have no issue with the guidelines at all."
But competing aggregators think a surge of 2-2.5x of base price would be better, providing the base price is revised at regular intervals in line with the wholesale price index.
They point out that in some cities like Delhi base prices have not been revised for seven years. And though cancellation charges are well intended it may impact the supply of vehicles, so operators need to be closely involved in structuring it.
The industry is also pushing for a single-window licence in cities for aggregators covering a full range of vehicles — cars, scooters, motorcycles, autorickshaws and so on.
Despite a central guideline to this effect, many states are drafting guidelines subjecting each vehicle type to a separate licensing regime, making the process more cumbersome.
But the major emerging difference between cab aggregators concerns electrification.
Ola, which can leverage its electric vehicle business, wants a speedy change and supports Delhi, which wants 100 per cent of the vehicles of aggregators to be electric by 2030.
Its competitors are more sceptical on the speed of conversion.
Given that cab aggregators are a force to reckon with in the urban transport landscape, it would be mutually beneficial for states and the companies to devise a workable operating plan.
The regulatory snarl-up
Feature Presentation: Rajesh Alva/Rediff.com
Source: Read Full Article