video
US economy needs to cool the labor market by slowing down excess demand: Douglas Holtz-Eakin
Former CBO Director Douglas Holtz-Eakin joins a panel on 'Mornings with Maria,' discussing the fourth quarter GDP report released Thursday.
By now it's common knowledge that the U.S. saw an unprecedented drop in labor participation at the onset of the COVID-19 pandemic in 2020 as health concerns, lockdowns and stimulus payments caused tens of millions to abandon or forfeit their jobs.
But three years later, millions still haven't returned – including many who quit in the middle of their prime working years – and some economists are sounding the alarm that so many capable, would-be earners remain out of the workforce.
When the Labor Department reported last month that unemployment dropped to 3.4% in January, the lowest level in more than 50 years, not all experts were celebrating.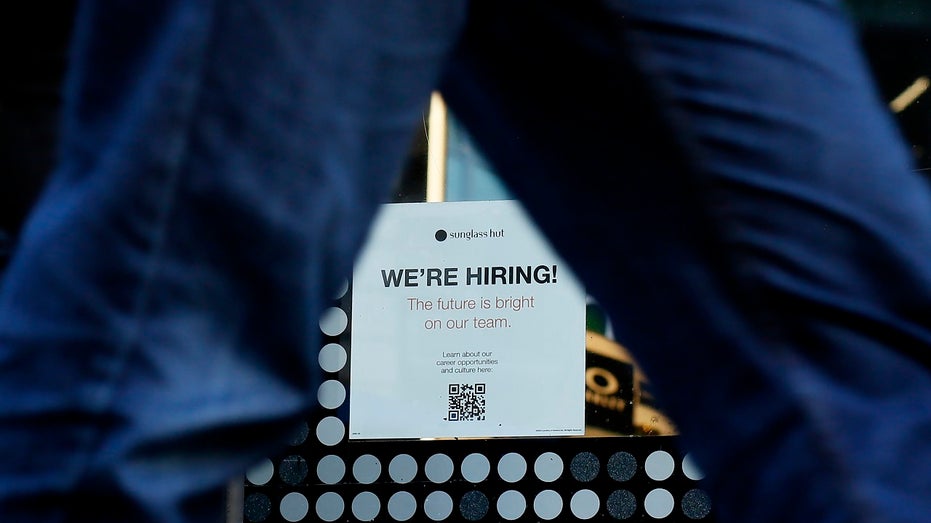 A "Now Hiring" sign is displayed on a shopfront on October 21, 2022, in New York City. Some economists are sounding the alarm over the fact that millions of Americans have still not returned to work three years after the pandemic began. (Leonardo Munoz/VIEWpress / Getty Images)

Dr. Samuel Gregg, a distinguished fellow at the American Institute for Economic Research, tweeted, "THIS is the employment number that should concern Americans: our abysmal labor participation rate. Some Americans have stopped looking OR decided that they don't want to work OR cobbled together enough forms of welfare rather than work."

LOWE'S FOUNDATION INVESTS $50M TO ADDRESS 'CRITICAL' TRADESPEOPLE WORKER SHORTAGE

He called the situation "a social and economic disaster."

Rachel Greszler, a senior research fellow at The Heritage Foundation and a former senior economist at the Joint Economic Committee of Congress, agrees.

Greszler says that while different groups of workers such as parents and lower income workers were disproportionately affected at the beginning of the pandemic, that is no longer the case. And recent data indicates it wasn't just COVID that caused so many older folks to leave the workforce.

Data provided to Greszler from the Bureau of Labor Statistic shows workers with children have returned to work at a pace putting them back on par with where they were in February 2020. But employment is down 2.7% for workers without children in the home.

EMERGENCY SNAP BENEFITS ENDING AFTER 3 YEARS

She says today, the 20 to 24-year-old age group has had the greatest decline in employment – particularly men in that age group – and there is an increase in young people returning to their parents' homes.

But Greszler says it's important to note that the labor participation rate was on the decline long before the pandemic. She points out it peaked around 2000, and among men aged 20 to 24, employment is down 10.5% since then.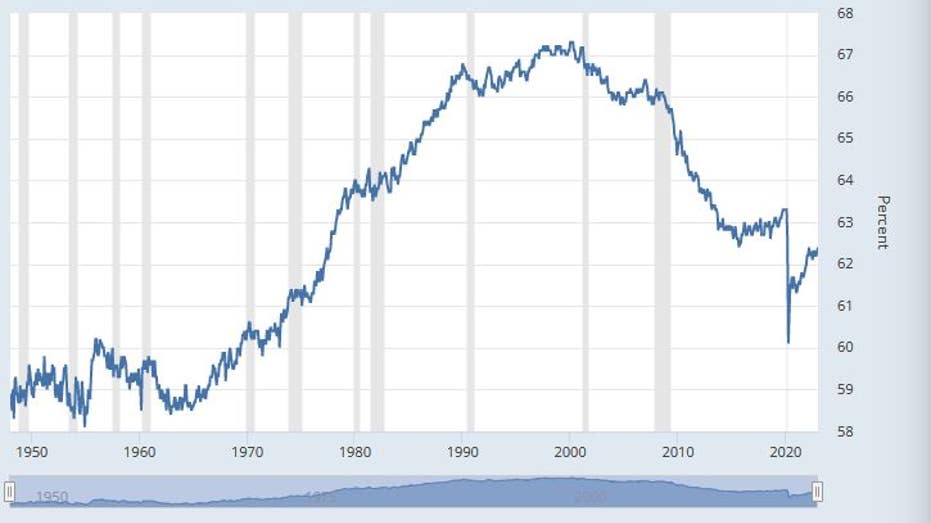 Labor force participation rate from 1950 to present, using data from the U.S. Bureau of Labor Statistics.

"The troubling part is, what does this mean for the future of the workforce?" Greszler told FOX Business. 

"When you talk about people who are kind of displaced from the education or worker experience routes that they otherwise would have gone into, and instead just kind of been idle at home – living with mom and dad or maybe in a group setting and just able to live off welfare benefits – they're not getting the experience and the education they need," she explained. "So I think it's really troubling going forward that we could see this have a more longer-term impact."

IS US MONTHLY JOBS REPORT STILL RELIABLE OR THE LAST DOMINO TO FALL?

While it's evident many older workers chose to retire early following the pandemic, Greszler points to a significant factor at play. A study from January out of the Sauder School of Business at the University of British Columbia, titled "The Great Resignation was caused by the COVID-19 House Crisis," indicates U.S. home price growth was responsible for the entirety of the decline in older American workers' labor force participation for those age 65 and up.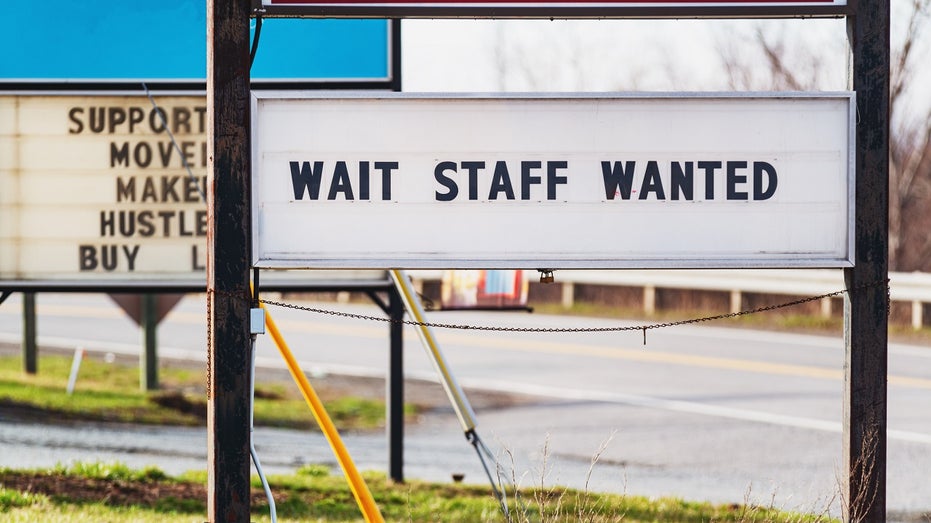 Three years after the pandemic hit the U.S., millions of workers have not returned. Some economists are concerned that younger workers – particularly men – have been ducking out on the workforce at an increasing rate for decades. (iStock / iStock)

Meanwhile, workers between 55 and 64 are back to work at the same rate as they were pre-pandemic.

Greszler says extended government benefits are contributing to keeping many younger workers at home. 

"I think about the future of my kids. I'm an economist, so I want them to have the full information and make an informed decision," she said, bringing the situation into perspective.

GET FOX BUSINESS ON THE GO BY CLICKING HERE

"But if you're making a smart financial decision: The difference between not working or working like 10 hours a week at a low age job and just collecting a ton of welfare benefits, versus a typical blue collar or middle class job is not much at all," she said. "Why bother?"

Source: Read Full Article