video
California flooding seen in aerial footage
Aerial video published Tuesday shows flooding in California due to heavy rains. (@CA_DWR via Twitter)
More than 200,000 California homes and businesses are without power Tuesday as a series of storms bringing torrential rainfall are continuing to slam the state. 
The severe weather is also causing disruptions to travel and tourism, with flooding reported at Los Angeles' Union Station, roads being closed due to mud flows and officials in Santa Barbara shutting down a beach after around 5,000 gallons of sewage entered waters there. 
Pacific Gas and Electric, which is dealing with the majority of the ongoing power outages across California, according to the website Poweroutage.us, says it observed "wind gusts exceeding 70 mph and more than 100 cloud to ground lightning strikes" in storm activity from last night into this morning. 
"PG&E crews will continue working to restore power safely and as quickly as possible in our hometowns," the company said in a statement Tuesday morning. "In some areas, access to damaged equipment has been difficult, impacting restoration efforts." 
BIDEN APPROVES EMERGENCY DECLARATION FOR CALIFORNIA 
Uvas Creek floods a section of Miller Avenue in Gilroy, California, as the latest series of atmospheric rivers hit the Bay Area on Jan. 9, 2023. (Dai Sugano/Bay Area News Group via AP / AP Images)

Real-time traffic data from Google is showing road closures throughout the state because of the storms, including large stretches of highway west of Los Angeles around Santa Barbara. 

County officials closed West Beach on Monday after a "spill involved a release of at least 5,000 gallons of sewage to a storm drain discharging to Mission Creek, near Vernon Road and Serena Road in Santa Barbara. 

CALIFORNIA FACING $24 BILLION BUDGET SHORTFALL AMID ECONOMIC UNCERTAINTY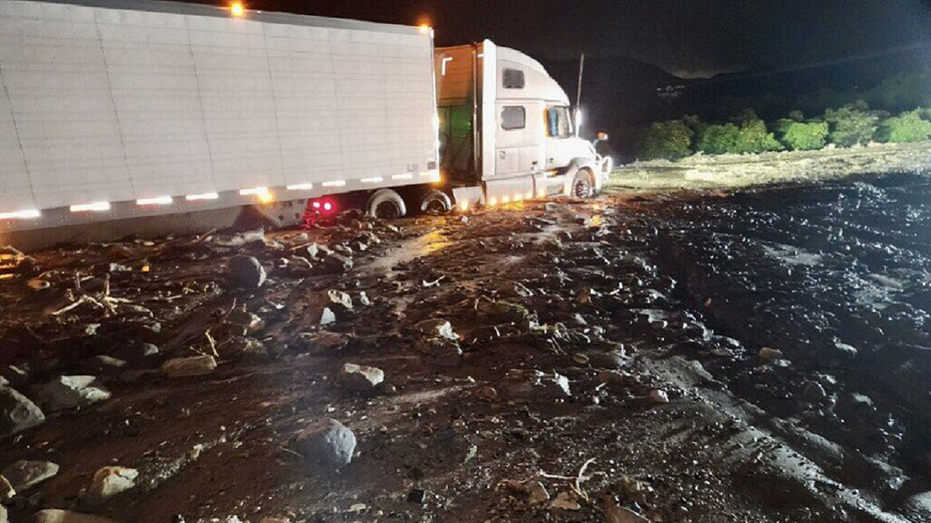 A tractor trailer that became stuck after a mud flow along a highway in Fillmore, California, on Monday, Jan. 9. (CHP Moorpark)

"The affected area has been posted with signs warning the public to avoid contact with the water until sample results indicate the water is safe for recreational use," the county's public health department said. "Contact with sewage contaminated water increases the risk for certain types of illnesses." 

Just east in Fillmore, the California Highway Patrol captured an image of a tractor trailer truck stuck in mud that flowed across a highway. 

"Those were the 126 traffic lanes. Now it's 3 feet deep with mud and rocks," the CHP's Moorpark area office wrote on Twitter around midnight Monday. "No ETA on reopening." 
The storm-swollen San Lorenzo River floods land in Santa Cruz, California, on Monday, Jan. 9. (Shmuel Thaler/The Santa Cruz Sentinel via AP / AP Images)

Additionally, in Los Angeles, flooding has been reported at its Union Station. 

"Due to flooding at Los Angeles Union Station please be advised that passengers may use the Red Line entrances to move from one side of the station to the other," the Metrolink Commuter Rail Service wrote on Twitter. 

CLICK HERE TO READ MORE ON FOX BUSINESS     

FOX Weather is reporting that Santa Barbara, Ventura and San Luis Obispo counties have been hit especially hard by rain, with more than 15 inches falling in higher elevations. 

California also says 85 of its state parks are either closed or partially closed because of the weather.

Source: Read Full Article