Europe risks losing its second tourist season this summer as vaccine paralysis collides with an exploding third wave of COVID-19, pushing the Club Med bloc into deeper economic crisis and debt distress.
Morgan Stanley has warned that Spain's battered economy could face another year of contraction under its "severe bear case", defined as failure to lift the jab-rate above the current glacial pace. This would cause the number of overnight stays in hotels to remain even lower than recorded during the dire summer of 2020.
Europe's tourist-dependent economies are bracing for another difficult year.Credit:AP
France, Italy, Portugal and Greece would fare slightly better under this scenario but they would nevertheless struggle to eke out more than minimal growth, leaving them trailing badly as northern Europe surges back to pre-pandemic levels.
Under its moderate "downside scenario", where the jab-rate doubles over the next quarter, there would be some reopening during the summer but business would be no better than last year. Although southern Europe would muddle through, it would be denied a V-shaped recovery.
"We see an increased risk of additional economic scarring," said the bank's Europe strategist Jacob Nell.
Morgan Stanley still assumes that the worst will be averted, but the picture is deteriorating fast. Europe's leaders failed to heed the lesson from Britain's ordeal with the B.1.1.7 variant last December. They have allowed the new strain to become dominant.
The gamble might have been plausible if vaccination had kicked off a month earlier and the rollout had been faster. Instead the virus has won the race. Most of Italy is in lockdown again. France has imposed a disguised lockdown for another month in greater Paris, where critical care beds are saturated and the South African variant is nearing a tenth of cases. The variant is above 30 per cent in hotspots in western France. It is staggering to think that the Élysée Palace was breezily talking of rapid reopening barely a week ago.
It is a political body-blow for Emmanuel Macron, who defied his scientific advisers and prime minister in January and insisted on keeping France largely open, arguing that every week of delay was a week gained for the economy. Instead it was a week gained for the virus to do its worst, and the economic damage is likely to be an order of magnitude greater.
Loss of confidence in the vaccination process due to the EU's erratic lurches back and forth over the AstraZeneca jab has only made matters worse.
EU 'vaccine certificates' may help to soften the blow for the tourism industry, although US and Canadian tour operators – big spenders when they come – are close to writing off Europe for a second year running.
The fresh COVID breakout has dealt a political body blow to French President Emmanuel Macron, who defied his scientific advisers and prime minister in January and insisted on keeping France largely open.Credit:AP
The Chinese and Japanese will not be coming.
The long-term danger is a K-shaped recovery that leaves southern Europe languishing. Club Med economies have already seen public debt ratios explode. The Commission has forecast debt ratios next year of 119 per cent of GDP in France, 122 per cent in Spain, 127 per cent in Portugal, 159 per cent in Italy, and 194 per cent in Greece. It had expected ratios to stabilise and to start falling in some countries this year but these calculations were made before the third wave struck.
The tourist sector makes up 13.7 per cent of output in Greece and 12.4 per cent in Spain. It is roughly half that size in Italy and France, which have bigger, diversified economies. Marchel Alexandrovich from Jefferies says that part of this is protected even if foreign travellers stay away. Some of it is domestic tourism so there is an offsetting 'staycation' effect.
However, it could be extremely serious for Spain. The economy contracted 11 per cent last year when foreign visitors collapsed from 84 million to 19 million, costing €106 billion ($163 billion) in lost revenues, according to Exceltur data.
The Spanish government is rushing through an extra €11 billion package to rescue firms and prevent a cascade of insolvencies. But overall fiscal policy is tight, bordering on contractionary.
The political and economic stakes of vaccine strategy are rising exponentially.
The EU Stability Pact hangs like the Sword of Damocles over the high-debt states. It has been suspended for now but will snap back after the pandemic.
The Bank of Spain had been counting on 6.8 per cent growth this year yet is starting to warn of a darker scenario. Spain will be a major beneficiary of the EU's €750 billion Recovery Fund but half of this is loans rather than grants and it trickles through slowly over six years.
The Europe Central Bank's Schnabel caused minor tremors in EU policy circles this week by stating what everybody knows – but few dare utter – that the fund is too small. A bigger package will be needed. This is to break the code of Omerta. Europe's leaders oversold the Recovery Fund last year as a dramatic game-changer and a great leap forward in fiscal federalism, Europe's 'Hamilton moment' no less.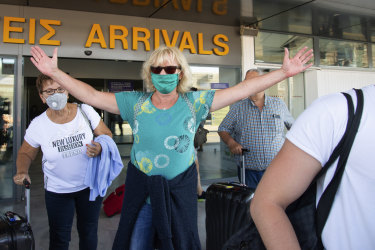 The vaccine mishaps will make international tour operators hesitant to send clients to Europe..Credit:AP
To admit now that it was inadequate is a daunting political prospect. The push for a second bailout package will be a very hard sell in the frugal bloc of Germany, the Netherlands and Baltics.
Stimulus from the Recovery Fund is tiny compared to Joe Biden's mega-packages in Washington. Furthermore, pent-up household savings in Europe are less potent than in the US.
TS Lombard says most of the money has accrued to older people with a low propensity to spend, while the young have seen a drastic worsening in their personal finances. It is the opposite story in the US where the young enjoyed a windfall from the weekly support cheques, often exceeding their previous pay. This cohort spends almost all its cash and will give an extra lift to America's economic recovery.
In Europe, the ECB will try to hold the fort by 'front-loading' bond purchases and by backing Club Med debt markets indirectly by extending a further €330 billion of ultra-cheap credit to banks (TLTROs). But the ECB is currently fighting an imported monetary shock from the US as surging bond yields tighten financial conditions. Its bazooka is muzzled.
The danger is that Club Med will again be left behind when recovery comes, repeating the pattern seen after the Lehman crisis. The scarring from another lost tourist season could lead to a 'bad equilibrium' that does not self-correct, ultimately causing a second lost decade.
That would be untenable. The political and economic stakes of vaccine strategy are rising exponentially.
Telegraph, London
Market Recap
A concise wrap of the day on the markets, breaking business news and expert opinion delivered to your inbox each afternoon. Sign up here.
Most Viewed in Business
From our partners
Source: Read Full Article