video
Fed trying to thread the inflation needle by raising rates without crushing economy: Expert
Main Street Asset Management CIO Erin Gibbs and Exiger CEO Brandon Daniels discuss how the economy can avoid a 'deep recession' on 'Cavuto: Coast to Coast.'
Wholesale prices accelerated again in June as inflation seeps throughout every part of the U.S. economy, squeezing businesses and American households in the form of higher prices for most necessities. 
The Labor Department said Thursday that its producer price index, which measures inflation at the wholesale level before it reaches consumers, climbed 11.3% in June from the previous year. On a monthly basis, prices grew by 1.1%.
Both of those figures are higher than the 10.7% annual and 0.8% monthly estimates from Refinitiv economists, underscoring just how strong inflationary pressures still are.
Core inflation at the wholesale level, which excludes the more volatile measurements of food and energy, increased 0.3% for the month, following a 0.4% increase in April and May. Over the past 12 months, core prices climbed 6.4%. Economists lauded the potential slowdown in core inflation increases, suggesting it could be a sign that consumer prices are beginning to moderate. 
INFLATION SURGES 9.1% IN JUNE, ACCELERATING MORE THAN EXPECTED TO NEW 40-YEAR HIGH
"It's clear that food and energy are driving PPI higher, as was the case in yesterday's inflation print," said Peter Essele, the head of portfolio management at Commonwealth Financial Network. "When removing these volatile components, PPI appears to have peaked and is starting to roll over, a tell-tale sign that the economy is shifting into late-cycle territory."
Overall, prices for goods jumped 2.4% last month, the sixth consecutive rise and the biggest contributor to the headline inflation figure. Nearly 90% of the June increase in services stems from a 10% leap in prices for final demand energy, including a stunning 18.% increase in gasoline prices, according to the Labor Department.
Meanwhile, the services index advanced 0.4% in June, with increases in transportation and warehousing services accounting for about two-thirds of the gain. 
The surge in wholesale prices comes on the heels of a separate Labor Department report released Wednesday that showed the consumer price index rose 9.1% in June from a year ago, exceeding market expectations. It marks the fastest pace of inflation since December 1981.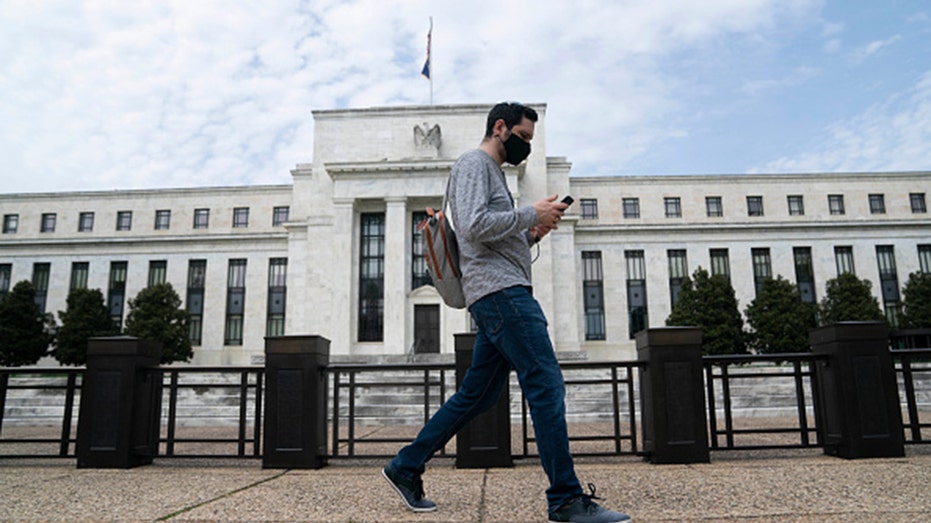 A man wearing a mask walks past the U.S. Federal Reserve building in Washington D.C., the United States, on April 29, 2020.  ((Xinhua/Liu Jie via Getty Images) / Getty Images)

Rampant inflation has become a major political liability for President Biden ahead of the November midterm elections, in which Democrats are expected to lose their already razor-thin majorities. Surveys show that Americans see inflation as the biggest problem facing the country – and that many households blame Biden for the price spike.  

The consecutively bad reports will likely solidify a series of aggressive rate hikes by the Federal Reserve as policymakers race to catch up with runaway inflation. The U.S. central bank already raised the benchmark interest rate by 75 basis points last month for the first time since 1994 and has confirmed that a similarly sized increase is on the table in July.

With inflation running even hotter than economists expected in June, Wall Street is now ramping up the odds of a mega-sized, 100-basis point hike in July. About 83% of traders are now pricing in the chances of a 100-basis point increase later this month, according to the CME Group's FedWatch tool, which tracks trading.

GET FOX BUSINESS ON THE GO BY CLICKING HERE

"The probability of a 100-basis point hike from the Fed in late July has greatly increased after the two price index releases," Essele said. "The Bank of Canada increased rates by 1% on Wednesday, the first G7 country to make such a move to curb inflation in this cycle, and it's likely the US will follow suit."

Source: Read Full Article