video
WATCH LIVE: Biden senior advisor Keisha Lance Bottoms hosts an Inflation Reduction Act briefing
The White House Office of Public Engagement holds a briefing on inflation, including Xavier Becerra, Jennifer Granholm and Wally Adeyemo.
Large U.S. electric utilities with renewable power projects in the works will benefit most in the sector from new federal clean energy funding, analysts and researchers said, with those already at the forefront of developing solar and wind cleaning up.
The Biden administration's $430 billion Inflation Reduction Act devotes billions of dollars for tax credits and direct payments for solar, wind, battery and other energy sources to move electric power supplies from fossil fuels.
Regulated utilities including Duke Energy Corp and Dominion Energy Inc begin reporting fourth-quarter results this week and analysts expect them to lay out plans for capitalizing on the IRA.
Florida Power and Light CEO Eric Silagy visits workers restoring power in Naples, Fla., on Monday, Oct. 3, 2022. FPL parent company NextEra Energy is expecting to benefit from the Inflation Reduction Act. ((AP Photo/Robert Bumsted) / AP Newsroom)

"The main beneficiaries are likely going to be the utilities that eventually acquire (these) projects and already had some in the pipeline," said Ryan Kronk, power markets analyst at consultancy Rystad Energy, adding the full effects would likely be delayed due to labor and supply chain constraints.

BIDEN, DEMOCRATS' GREEN ENERGY PUSH LEAVING AMERICANS 'OUT IN THE COLD': REPORT

NextEra Energy Inc last month said the new law's extension of tax credits has stabilized the renewables outlook and spurred investments.
Ticker
Security
Last
Change
Change %
NEE
NEXTERA ENERGY INC.
76.11
+0.61
+0.81%
DUK
DUKE ENERGY CORP.
100.84
-0.98
-0.96%
D
DOMINION ENERGY INC.
61.62
-0.12
-0.20%
NextEra, the biggest U.S. generator of renewable energy, has a backlog of 16,500 megawatts of renewables projects. The parent of Florida Power and Light has added 25% to that backlog in the last year, executives have said.

The company's business providing services to other utilities expanding into clean technologies will give it an added boost from the IRA, said Michael Doyle, senior equity analyst for utilities at brokerage firm Edward Jones.

Duke, which has directed 80% of its five-year $63 billion capital plan towards clean energy, also stands to be a major benefactor.

"What the IRA does is it lowers costs for customers," said Duke spokesman Neil Nissan. Duke also owns the largest U.S. nuclear fleet, which will see new advantages under the IRA, he added.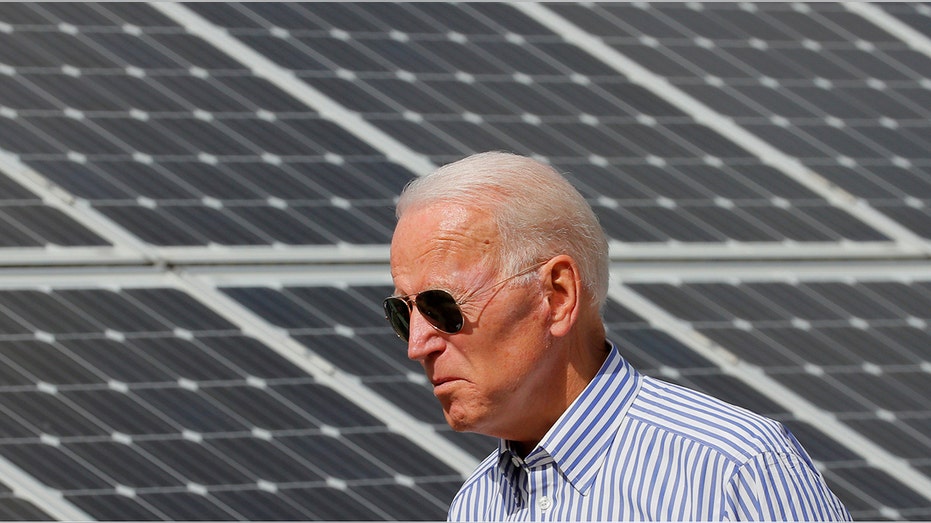 Joe Biden walks past solar panels while touring the Plymouth Area Renewable Energy Initiative in Plymouth, New Hampshire, U.S., June 4, 2019. REUTERS/Brian Snyder/File Photo

NextEra and Dominion were not immediately available for comment.

Where utilities are located will help determine how much they can gain from the IRA, said Emily Beagle, research associate at Webber Energy Group at the University of Texas at Austin.

CHINA SOLAR PANEL SHIPMENTS SCRUTINIZED OVER FORCED UYGHUR LABOR

Solar projects in sunny states in the south and southwest and wind projects in the Midwest are among the best situated to collect IRA dollars, she said. One caveat is the greater the rate-paying population, generally the better off the utility.
In this image provided by Portland General Electric, windmills and solar panels line a renewable energy facility in Lexington, Ore., on this May 24, 2022. The facility combines solar power, wind power and massive batteries to store the energy generat (Sarah Hamaker/Portland General Electric via AP / AP Images)

Developers are expected to add nearly 55 gigawatts of utility-scale electric generation this year, with more than half coming from solar, according to the U.S. Energy Information Administration.

Smaller utilities and cooperatives are not completely left out. They stand to benefit from the IRA's direct-pay provisions, Beagle said.

CLICK HERE TO GET THE FOX BUSINESS APP

The full impact of climate-friendly incentives will likely take a "few years" to arrive, said Michael Haggarty, associate managing director, Moody's Investors Service.

Source: Read Full Article