London (CNN Business)Royal Dutch Shell has slashed its dividend for the first time since World War II after profits were wiped out by a historic collapse in oil demand caused by the coronavirus pandemic.
The Anglo-Dutch firm, one of the world's largest oil companies, said in a statement Thursday that it will cut its quarterly dividend to 16 cents per share, from 47 cents previously. It posted a net loss of $24 million for the first quarter of 2020, compared with a profit of $6 billion in the same period a year ago.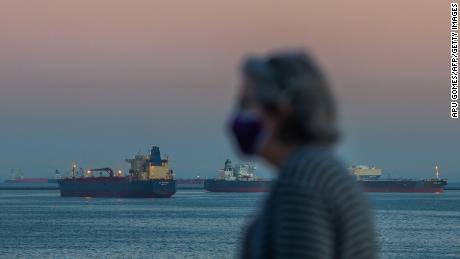 Shares in the company plunged as much as 8% in London on Thursday morning.
"The world has seriously changed over the last few months," Royal Dutch Shell (RDSA) CEO Ben van Beurden said in a video recorded from his home and posted to the company's website. "The global economic decline and uncertain outlook may have significant impacts on our profitability, cashflow and balance sheet," he added.
Cutting the dividend will "reinforce our resilience, preserve the strength of our balance sheet and support value creation in the long term," Van Beurden added.
Shell was widely expected to maintain its dividend, having secured more than $20 billion in credit facilities since December. But the pandemic has destroyed demand for oil, with planes grounded, millions of people working from home and taking far fewer car trips, and factories shuttered.
The International Energy Agency said in a report Thursday that the drop in global energy use this year is like wiping out demand from all of India, a country of 1.3 billion people and the world's third biggest consumer. Demand for oil, gas and coal had been hammered, it added. Only renewable energy was proving resilient.
Such dynamics — combined with the supply glut that resulted from a brief but brutal price war between Saudi Arabia and Russia — have dealt a gut punch to oil markets. Last week, US oil prices turned negative for the first time ever as traders paid people to take crude off their hands.
Norwegian oil company Equinor slashed its dividend by 67% last week. But BP (BP), which reported a 67% decline in first quarter profit on Tuesday, maintained its dividend at 10.5 cents per share while saying it would keep it under review.
The decision to pay a dividend was based on the performance of the business in the first quarter and "subsequent decisions will be taken based on the context at that time," BP CEO Bernard Looney told analysts.
ExxonMobil (XOM) and Chevron (CVX), which report earnings on Friday, have vowed to defend their dividends.
— Julia Horowitz and Matt Egan contributed to this report
Source: Read Full Article