video
Tyson Foods has 'not gone unscathed' in bird flu, inflation challenges: CEO Donnie King
Tyson Foods CEO Donnie King discusses the company's latest investments and high food prices impacting the consumer.
Tyson Foods Inc. plans to shut down two of its poultry plants and lay off nearly 1,700 workers as it tries to improve its chicken operations that produce about one-fifth of the U.S. supply.
Tyson notified the nearly 1,000 employees at its Van Buren, Ark., chicken plant on Monday that it would close on May 12, the company said. About 700 workers at Tyson's plant in Glen Allen, Va., also found out on Monday that its plant would close in May, according to the local United Food and Commercial Workers International Union, which represents employees at the Virginia plant.
The Springdale, Ark.-based meat company said production would be shifted to other Tyson plants. The company said the closures were part of a broader plan in its chicken division to improve operations and use full available capacity at each plant.
"The current scale and inability to economically improve operations has led to the difficult decision to close the facilities," a company spokesman said in a statement.
TYSON FOODS TAKES PROFIT HIT AS BEEF PRICES FALL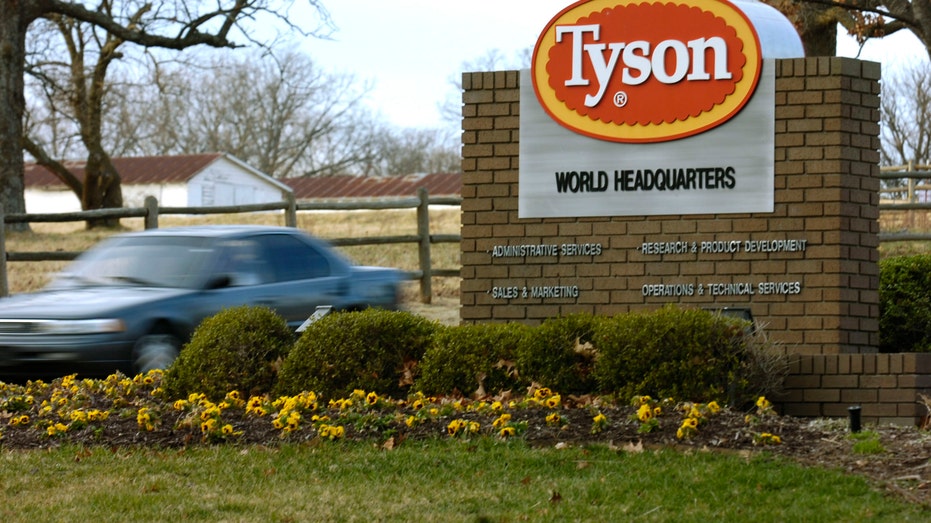 FILE – In this Jan. 29, 2006, file photo, a car passes in front of a Tyson Foods Inc., sign at Tyson headquarters in Springdale, Ark.  (AP Photo/April L. Brown)

Tyson reported last month its biggest percentage drop in quarterly profit in over a decade. Its long-dominant chicken business is under increased pressure as the company's profit margins fall from historic highs during the pandemic.

Tyson has about 124,000 employees in the U.S. and more than 140,000 globally, according to its most recent annual securities filing. The company said it is working with affected employees to apply for open jobs at other facilities.

CLICK HERE TO READ MORE ON FOX BUSINESS

Tyson last month reported declining operating income from its chicken business to $69 million for the quarter, compared with $140 million a year earlier.

Overall, Tyson said its profit for the three-month period ended Dec. 31 fell to $316 million, compared with $1.1 billion a year earlier. It was the company's largest year-over-year decline in quarterly net income since 2009, according to FactSet data.

Tyson Foods
Ticker
Security
Last
Change
Change %
TSN
TYSON FOODS INC.
57.21
+0.23
+0.40%
Shares of Tyson have fallen nearly 33% over the past 12 months and were about 1% higher on Tuesday morning.

Earlier this year, Tyson ousted the president of its poultry business, David Bray, who had led the business since 2021. The company named Wes Morris, who had retired from Tyson in 2017 and previously ran its prepared foods business, as the new leader of its chicken division.

Mr. Bray had been leading an effort to revamp the Arkansas company's chicken business. The business had struggled for years to hatch enough chicks and meet customer demand while paying more for labor to staff its plants and grain to feed its chickens.

"We are cleaning up and have been cleaning up some issues," Chief Executive Donnie King said on a call with analysts last month. "We still feel really good about our chicken business."

Mr. Morris, the company's new head of poultry, said on the call last month that the company can do a better job of making sure it has the right amount of chicken at the right locations to meet shifting consumer demand.

TYSON FOODS HAS 'NOT GONE UNSCATHED' IN BIRD FLU, INFLATION CHALLENGES: CEO DONNIE KING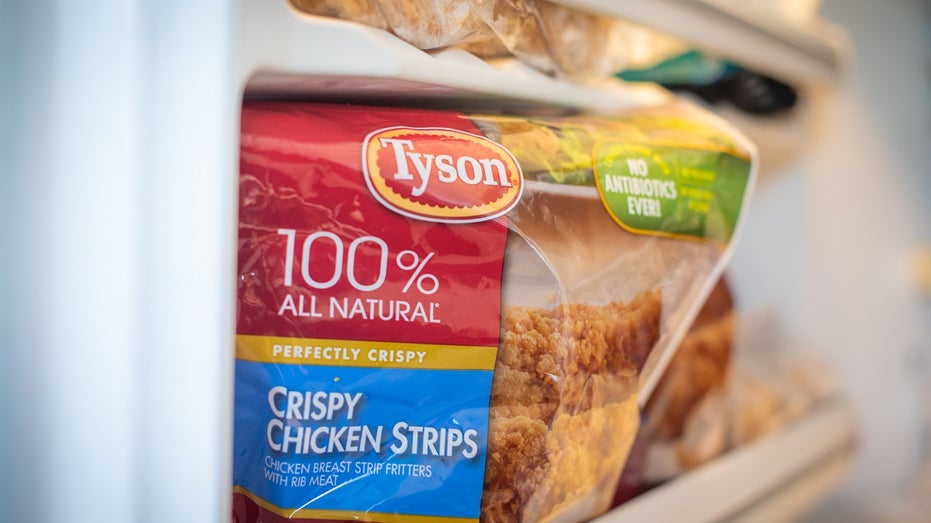 A package of Tyson Foods Inc. crispy chicken strips arranged in Dobbs Ferry, New York, U.S., on Saturday, Feb. 6, 2021. Tyson Foods Inc. is scheduled to release earnings figures on February 11.  (Tiffany Hagler-Geard/Bloomberg via Getty Images / Getty Images)

COSTCO MAINTAINING LOW ROTISSERIE CHICKEN PRICES

Chicken prices have fallen sharply in recent months as processors increase supply. Boneless, skinless breast meat prices fell from $3.50 in May of last year to about $1 by January, according to research firm Urner Barry. The price drop squeezed profits at Tyson and rival chicken company Pilgrim's Pride Corp..

Chicken production overall in the U.S. is expected to increase by about 3% in 2023, according to the U.S. Agriculture Department.

The company has reshuffled much of its leadership team over the past six months, naming new heads for its international, prepared foods and chicken divisions, as well as for its beef and pork unit.

TYSON FOODS LATEST LARGE BUSINESS TO FLEE CHICAGO, WHAT SPARKED THE EXODUS?

Hundreds of corporate Tyson employees are also leaving the company as it closes several offices housing employees of its beef and pork and prepared foods divisions and moves those functions to northwest Arkansas, The Wall Street Journal has reported.

Source: Read Full Article