video
CEO of ChatGPT's parent company reportedly donated more than $500K to Democrats
FOX Business' Lydia Hu breaks down the controversy surrounding OpenAI CEO Sam Altman and their chatbot, ChatGPT.
A top science fiction magazine announced that it would no longer accept submissions after it was flooded with AI- or ChatGPT-generated stories.
"There is a problem for short fiction submissions, and it's not just going to go away," sci-fi magazine Clarkesworld tweeted last week, posting a graph that showed they had seen a jump in banned submissions – stories either dismissed due to plagiarism or because they were "bot-written."
"It's clear that business as usual won't be sustainable, and I worry that this path will lead to an increased number of barriers for new and international authors," magazine founder Neil Clarke explained in a subsequent blogpost. "Short fiction needs these people."
ChatGPT and its growing competitors are part of a fresh wave of sophisticated computer intelligence called generative AI, which are systems that can produce content from text to images.
TWITTER SAYS ONLY PAID SUBSCRIBERS WILL BE ABLE TO USE TEXTS FOR TWO-FACTOR AUTHENTICATION
Clarkesworld, which regularly publishes fiction from award-winning science fiction and fantasy writers, fully closed its submissions on Tuesday after seeing a continued spike in chatbot-generated submissions. The magazine has been a launching pad for award-winning writers and regularly publishes work from well-established authors in the industry.
Publication in Clarkesworld is limited to 22,000 words maximum, with a payment of $.12 per word – meaning an author could make up to around $2,600 with publication.
FACEBOOK ALLOWED KREMLIN-ALLIED OLIGARCH SANCTIONED BY US TO RUN ADS ON PLATFORM
The magazine had seen a jump in bot-written stories starting in the last few months of 2022, but submissions spiked with the release of ChatGPT and other AI programs, with the number of entries doubling each month until hitting a watershed in February. 
Ticker
Security
Last
Change
Change %
GOOGL
ALPHABET INC.
94.35
-1.16
-1.21%
MSFT
MICROSOFT CORP.
258.06
-4.09
-1.56%
NVDA
NVIDIA CORP.
213.88
-6.14
-2.79%
PATH
UIPATH
14.86
-0.68
-4.38%
AI
C3.AI INC.
21.86
-1.98
-8.31%
"In 15 days, we've more than doubled the total for all of January," Clarke wrote, posting a graph that showed around 115-120 banned stories in January and almost 350 in February by that time – which accounted for around 38% of all submissions. Just one week later, the number had reached 500 stories. 
TOP JUSTICE DEPARTMENT OFFICIAL WARNS AGAINST USING TIKTOK: 'WE NEED TO BE VERY CONCERNED'
Clarke noted that such cases had been "infrequent enough" in the past, and he considered them "only a minor nuisance."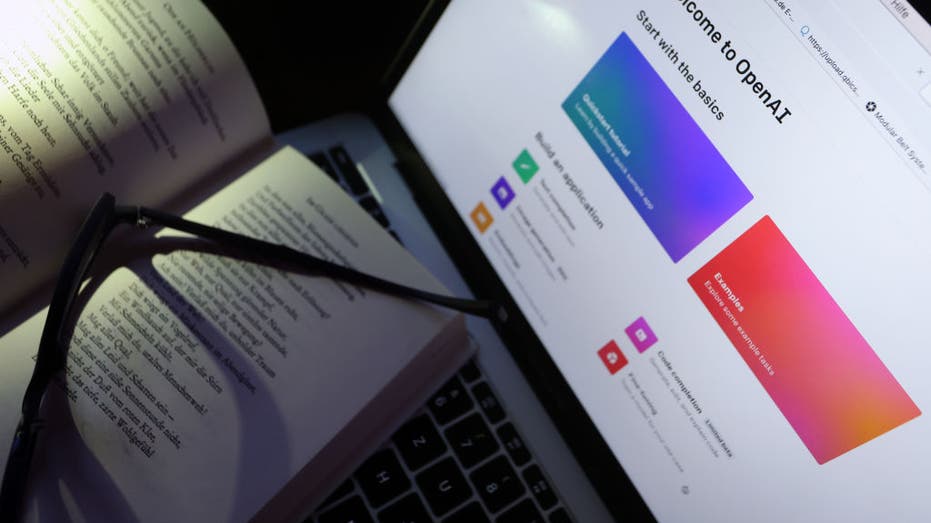 A book of poems lies on a screen on which the homepage of ChatGPT is called up. Artificial intelligence has been blamed for a spike in submissions to one sci-fi magazine. (Karl-Josef Hildenbrand/picture alliance via Getty Images / Getty Images)

"Overall growth was very slow and number of cases stayed low. Anyone caught plagiarizing was banned from future submissions," he explained, adding that authors would then complain that they "really need the money" that comes with a published story.

Clarke refused to explain how he was picking out the new AI-made stories, saying he had "no intention of helping these people become less likely to be caught" and that the magazine's process will "have to change" to deal with the new tools at the disposal of fraudsters.

He suggested a number of changes that might occur, such as limited submission windows or even asking authors to provide more contact information – or even outright refusing a submission that has a masked or VPN-covered location. Still, he viewed such options as either "short-lived" or said they could make it too difficult for new authors, especially those in international markets.

CLICK HERE TO READ MORE ON FOX BUSINESS

"If the field can't find a way to address this situation, things will begin to break," Clarke concluded. 

Neil Clarke did not respond to a FOX Business request for comment by time of publication. 

FOX Business's Kristen Altus contributed to this report. 

Source: Read Full Article