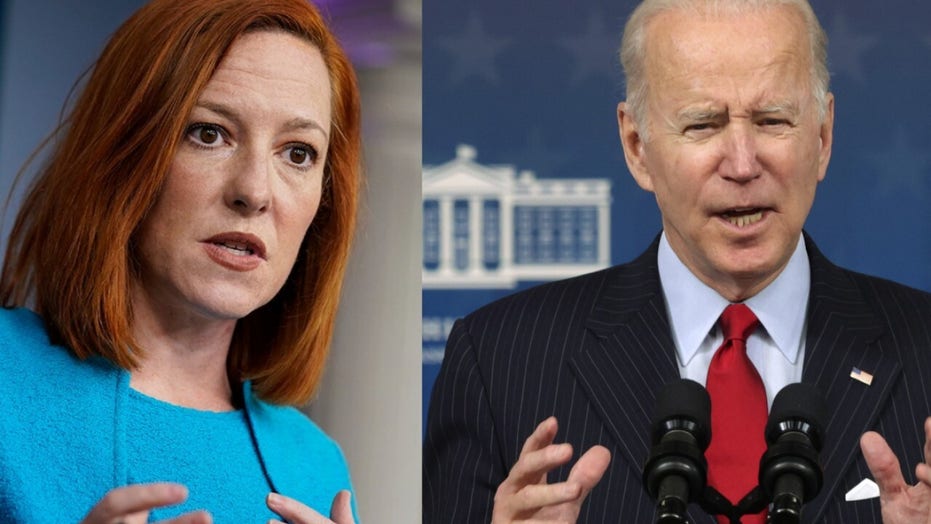 Joe Biden 'has blood on his hands': Greg Gutfeld
'The Five panel respond to Omicron COVID variant, which was first detected in southern Africa
There are more reported deaths in 2021 with COVID-19 versus 2020 despite widely-available vaccines, Greg Gutfeld pointed out on "The Five" Monday.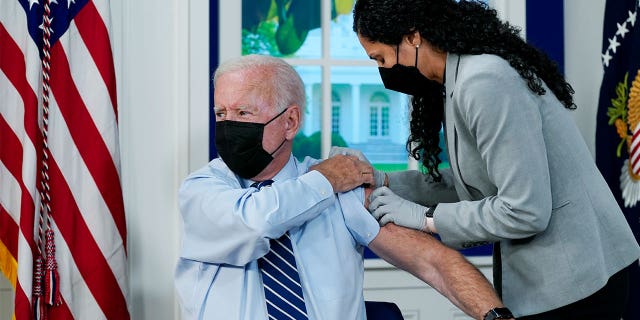 President Joe Biden receives a COVID-19 booster shot during an event in the South Court Auditorium on the White House campus, Monday, Sept. 27, 2021, in Washington. (AP Photo/Evan Vucci)
(AP Photo/Evan Vucci)
"Not only [does Biden] have blood on his hands for the number of people that have died under his watch, which is now more than when Trump was president – and Biden has the vaccines. So he has blood on his hands," Gutfeld said.
A total of more than 771,000 deaths of COVID-19 were reported since the beginning of the pandemic; 385,000 deaths were reported in 2020 and 386,000 in 2021, according to Johns Hopkins University. Biden entered office during an apex of surging COVID-19 deaths, which at its highest amounted to more than 3,000 reported deaths per day at the end of January 2021. In the months into his presidency, the numbers tapered off before surging again.
In the early stages of the novel coronavirus pandemic, then-candidate Joe Biden and other Democrats said President Trump's rhetoric on the origins of the novel disease was xenophobic.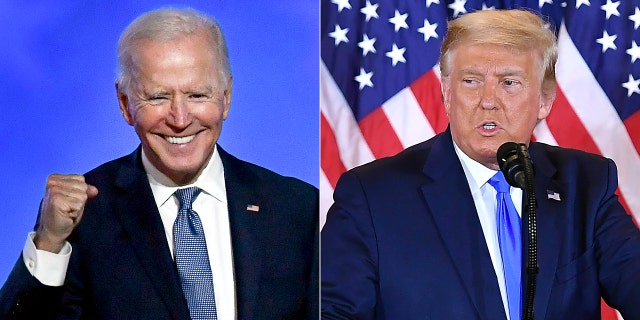 TOPSHOT – (COMBO) This combination of pictures created on November 4, 2020 shows Democratic presidential nominee Joe Biden gestures after speaking during election night at the Chase Center in Wilmington, Delaware, and US President Donald Trump speaks during election night in the East Room of the White House in Washington, DC, early on November 4, 2020. (Photos by ANGELA WEISS and MANDEL NGAN / AFP) (Photo by ANGELA WEISS,MANDEL NGAN/AFP via Getty Images)
(Photo by ANGELA WEISS,MANDEL NGAN/AFP via Getty Images)
"We are in the midst of a crisis with the coronavirus. We need to lead the way with science — not Donald Trump's record of hysteria, xenophobia, and fear-mongering. He is the worst possible person to lead our country through a global health emergency," Biden said in February 2020.
The following month, Biden then said, "Banning all travel from Europe — or any other part of the world — will not stop it."
"The Five" panel slammed Biden for appearing to flip-flop on COVID notably by ordering "air travel restrictions from South Africa and seven other countries" amid growing concern over the omicron variant that was first detected in southern Africa. The ban was slated to take effect Monday, according to the White House.
"As the president has said, we're gonna take every precaution and that's why we've taken the measures we have," Vice President Kamala Harris said.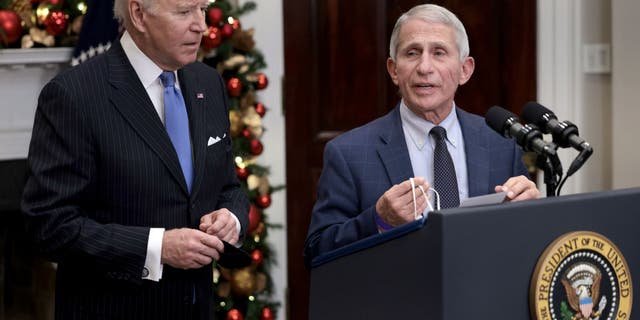 WASHINGTON, DC – NOVEMBER 29: Anthony Fauci (R), Director of the National Institute of Allergy and Infectious Diseases and Chief Medical Advisor to the President, speaks alongside U.S. President Joe Biden as he delivers remarks on the Omicron COVID-19 variant following a meeting of the COVID-19 response team at the White House on November 29, 2021 in Washington, DC. The World Health Organization designated it a variant of concern after South African officials discovered the variant last week. (Photo by Anna Moneymaker/Getty Images)
"He's also a racist for this travel ban," Gutfeld said in reference to Biden's past comments "Yeah, I'm just trying to feel like a Democrat, really, because I try to keep up."
"I mean, everything that they criticized Trump for has turned out to be correct," he said. "Whether it was the vaccines that they said were dangerous or you can't trust them or the travel ban, you can go back even further to whatever you want. But this new variant fear is wearing off on the American public. It's like a deadbeat relative that says it's going to stay for a couple of days and it's now going on in months. We're ready, we're done."
Source: Read Full Article