video
A California woman speaks in favor of reparations.
A woman in California spoke Saturday at a reparations task force meeting. (California Department of Justice).
California's reparations task force held its second in-person meeting on Saturday, where members of the public were allowed to give comments as the state legislature considers whether to implement a reparations program for descendants of Black slaves, and what that program would look like.
Hundreds of passionate people spoke in the two meetings on Friday and Saturday, voicing their support for cash payments to Black Americans, or grants of land or other compensation. Some called for a renewed Freedmen's Bureau — referring to the Reconstruction-era federal agency Congress tasked with providing food, medical aid, clothing and other needs to newly freed slaves and helping them find jobs. 
Sacramento Democratic Mayor Darrell Steinberg was among those who spoke Saturday, declaring his wholehearted support for reparations. 
COVID RELIEF MONEY TARGETED FOR USE BY CITIES TO FUND REPARATIONS PROGRAMS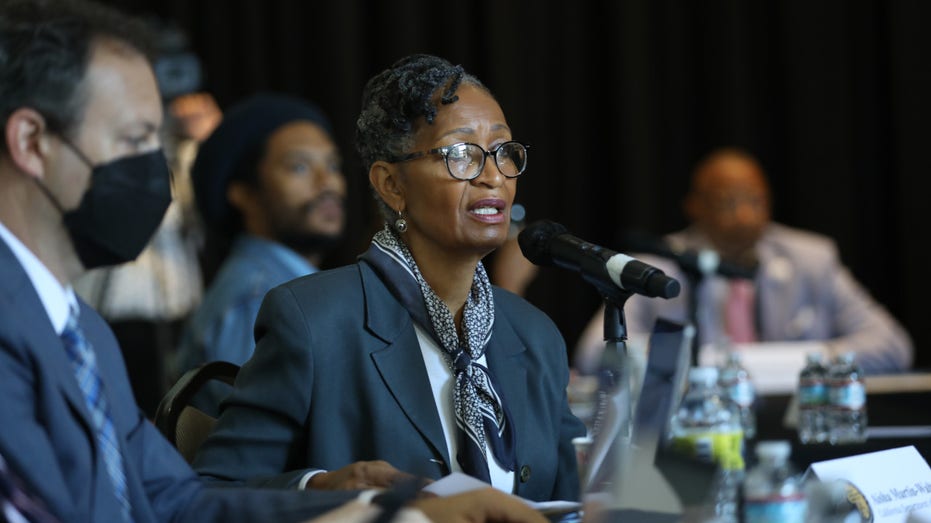 Aisha Martin-Walton, of the California Department of Justice, center, and Michael Newman, Senior Assistant Attorney General of California, left, attend the California Reparations Task Force meeting to hear public input on reparations at the Californi (Carolyn Cole / Los Angeles Times via Getty Images.)

"I wholeheartedly support reparations and think everyone should," Steinberg told the task force. 

"If government should stand for anything, it should stand for investing in communities and people who have been the victims of discrimination and disenfranchisement for far too long," he said, apologizing for the city of Sacramento's historic discrimination against Black people. 

SAN FRANCISCO REPARATIONS PANEL ON HOW IT DECIDED ON $5M PER BLACK PERSON: 'THERE WASN'T A MATH FORMULA'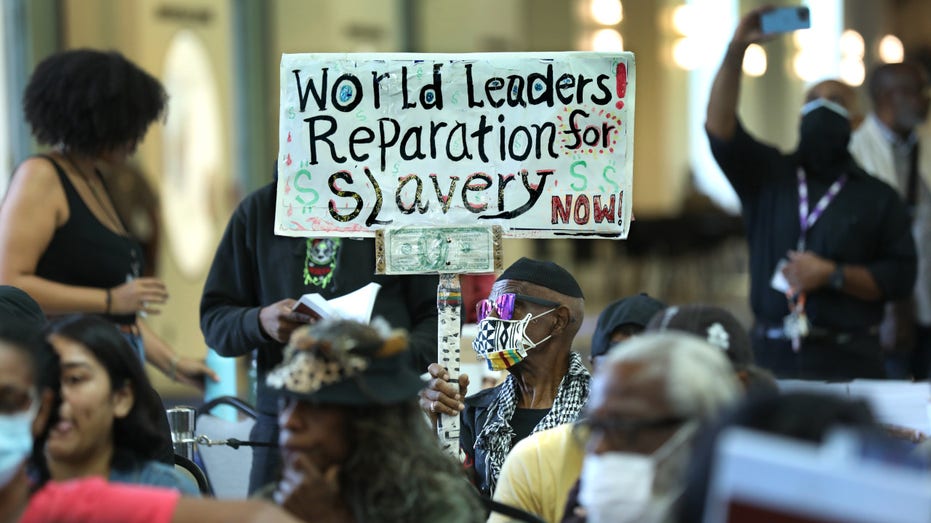 Los Angeles long-time resident, Walter Foster, age 80, holds up a sign as the Reparations Task Force meets to hear public input on reparations at the California Science Center in Los Angeles on Sept. 22, 2022. (Carolyn Cole / Los Angeles Times via Getty Images)

The California legislature established the Task Force to Study and Develop Reparation Proposals for African Americans (Task Force or Reparations Task Force) in 2020 in response to a national reckoning on race relations and the murder of George Floyd. The task force was assigned to study legacy of slavery in California and come up with recommendations to the legislature on "appropriate remedies of compensation, rehabilitation, and restitution for African Americans, with a special consideration for descendants of persons enslaved in the United States."

One proposal floated Friday was to give every Black citizen in the state a $360,000 check, which could cost the state government as much as $640 billion. There are approximately 1.8 million African-Americans living in California. 

CALIFORNIA LAWMAKER WANTS REPARATIONS PROPOSAL TO BE A NATIONWIDE 'BLUEPRINT,' BEYOND 'FINANCIAL COMPENSATION'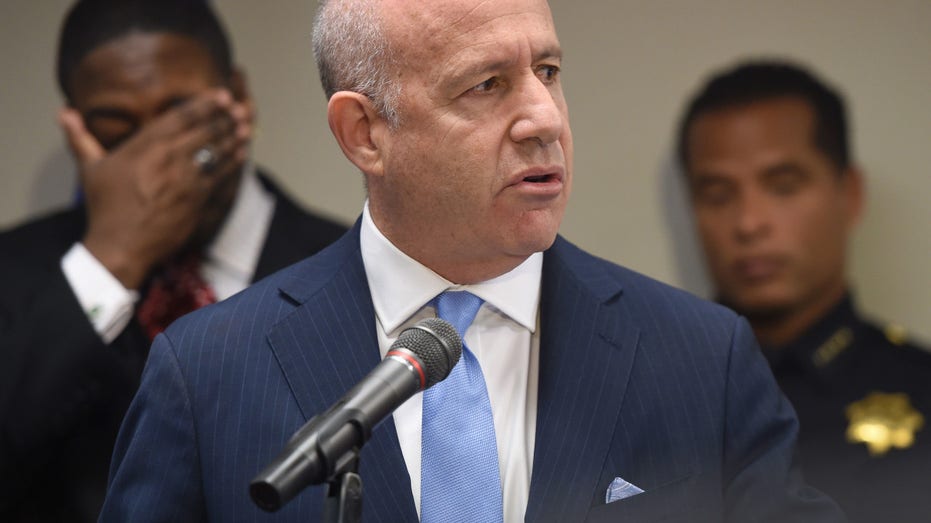 Sacramento Mayor Darrell Steinberg speaks at a press conference on March 27, 2018. Steinberg told the California reparations task force on Saturday that he "wholeheartedly" supports reparations for Black Californians.  (JOSH EDELSON/AFP via Getty Images.)

"If California can admit its sins and change the narrative, then there is a way forward for states and cities across the nation," said California Secretary of State Shirley Weber, who authored the bill creating the task force. 

CLICK HERE TO GET THE FOX NEWS APP

After hearing considerations from the public, the task force will have a July 1, 2023, deadline to submit its final recommendations on reparations to the legislature. State lawmakers will then be free to act as they see fit, including figuring out how to fund whatever compensatory programs they deem appropriate to Black Californians. 

Source: Read Full Article