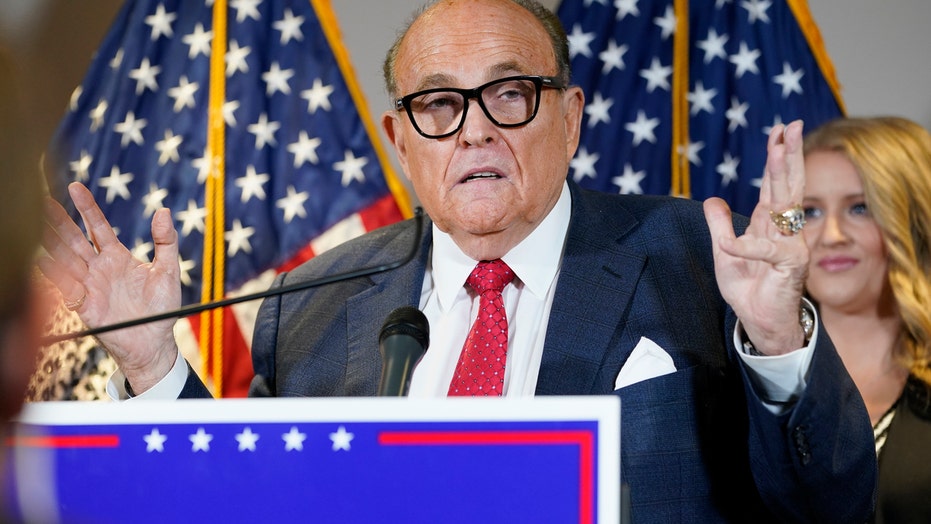 Trump attorney Rudy Giuliani to speak on election fraud before Pennsylvania state Senate
President Trump called into a Pennsylvania Senate meeting Monday on the state's presidential election results, repeating unproven claims of voting irregularities.
"This election was rigged and we can't let that happen. We can't let it happen for our country," Trump said via speakerphone. "And this election has to be turned around, because we won Pennsylvania by a lot and we won all these swing states by a lot."
TRUMP CAMPAIGN PUSHES FORWARD IN LEGAL CHALLENGE OF PA. CERTIFICATION, LOOKS TO REVIVE POLL WATCHER CLAIMS
Trump's personal attorney Rudy Giuliani, who attended the public hearing in person, argued that the Trump campaign has been denied the opportunity "almost uniformly" to raise concerns about voter fraud, and claimed mail-in ballots were the "primary device" used to carry out the alleged fraud. 
The campaign also alleges Republicans were denied the opportunity to observe the canvassing process, with Trump claiming they have "hundreds and hundreds of affidavits" of witnesses' personal stories to back their argument up. 
However, the so-called proof has not been presented during numerous court hearings, with judges repeatedly ruling against the Trump campaign.
In addition to Pennsylvania, Giuliani claimed that similar schemes also took place in Michigan, Wisconsin, Nevada, Arizona and Georgia.
TRUMP CANCELS TRIP TO PENNYLVANIA GOP MEETING ON ELECTION IRREGULARITIES, SOURCE SAYS
The latest unverified claims come after Pennsylvania, Nevada and Michigan officially certified their election results in favor of President-elect Joe Biden and Vice President-elect Kamala Harris. 
However, Trump campaign senior legal adviser Jenna Ellis told FOX News in a statement that certification from state officials is "simply a procedural step." 
"We are going to continue combating election fraud around the country as we fight to count all the legal votes," Ellis added. "Americans must be assured that the final results are fair and legitimate."
Meanwhile, Georgia is conducting its third recount of votes in the presidential election, though Secretary of State Brad Raffensperger expects "very similar results" to the first two counts, which favored Biden. 
"When we did the first audit, we found mistakes in three counties and that added over 1,000 votes for President Trump …" Raffensperger told FOX News' Neil Cavuto. "That has all been accounted for, and so I think this one will be very close to what we just have now. I don't see much difference whatsoever."
Despite criticism from President Trump over Raffensperger's oversight of the vote counting, the Republican secretary of state insists that he's going to follow the law and make honest decisions for the American public.
"We have a process. We have the law. I'm going to follow the law," he said. "I've never voted for a Democrat in my life, but that doesn't mean I would ever want to do something that was not filled with integrity."
"I'm an engineer and I'm going to make sure that we have a process that works for Georgia," he added. "I'm not putting my thumb on the scale. The people will decide this election."
CLICK HERE TO GET THE FOX NEWS APP
Despite the ongoing legal battle, the incoming Biden administration has received ascertainment from the U.S. General Services Administration as the apparent winner of the election, giving the green light to move ahead with transition proceedings.
Biden is set to receive his first classified briefing on Monday.
Source: Read Full Article