A member of Republican party, John Boehner once represented Ohio's 8th congressional district and served as the Speaker of the House from 2011-2015. Since being pushed out of government for not aligning closely enough with today's Republican party, these days Boehner works as a Senior Policy Advisor at an international law firm and sits on the board of directors for a for-profit healthcare network. Oh, and he also just dropped the cover for his upcoming book, On the House: A Washington Memoir, which is already being roasted by Twitter.
Boehner has been speaking quite highly of the contents of the memoir, which he believes is "a book people might want to actually read, no matter where they're coming from politically." It'll reportedly include stories about George W. Bush, Bill Clinton, Barack Obama, Nancy Pelosi, Joe Biden, and Mitch McConnell and will allegedly be an "honest memoir about how Washington really works."
While most people are anticipating this book with a healthy dose of side-eye, Twitter has taken to fully dragging the cover, which features Boehner lounging in a crimson leather chair and holding a glass of red wine as a lit cigarette rests in an ashtray and fills the room with smoke. It's quite the scene.
As Jezebel put it, it looks like something straight out of a Ruth's Chris steakhouse. And as Twitter described it, the cover looks like it could moonlight as a murder mystery. TBH, that checks out for a memoir about 21st century American government.
the story begins with the former speaker receiving an anonymous envelope of cash to investigate the mysterious murder of Harlan Thrombey pic.twitter.com/3t2Og73PPv
When you open the book, the sax solo from "Careless Whisper" starts playing pic.twitter.com/vqbXkyeoXG
Thank you to John Boehner for finally making drinking and smoking seem uncool. pic.twitter.com/eGcS2Nd0oe
If 007 was born in Ohio and wore Brooks Brothers….. Boehner, John Boehner…. pic.twitter.com/fdCA9VbFJb
The only thing missing from this cover? Needs more tanning beds.
The only way this book cover could be more representative of the essence of John Boehner would be if there was a tanning bed in the background. pic.twitter.com/YKbX0mxHVl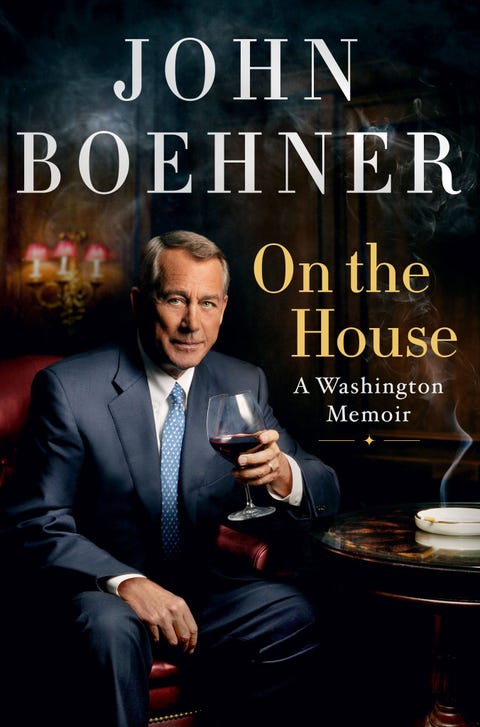 On the House: A Washington Memoir comes out on April 13, 2021.
Source: Read Full Article